23 December 2009
Anti-Slavery International and the Environmental Justice Foundation (EJF) are demanding that high-street giants H&M and Zara stop selling clothes made with cotton from Uzbekistan, a country where around half of all cotton is picked by forced child labour, following an investigation that links Uzbek cotton to products from both companies.
Despite assurances from the Uzbekistan government that forced child labour was outlawed in 2008, Anti-Slavery International and EJF have obtained images of children picking cotton taken secretly during Uzbekistan's 2009 cotton harvest, which ended at the beginning of December. Each year, the Uzbekistan government closes schools and forces more than 200,000 school children into the cotton fields during the three-month long harvest.
An investigation carried out by the human rights magazine Independent World Report uncovered that Beximco Textiles (Bextex) in Bangladesh, a supplier to Inditex (the owner of high street chains Zara and Bershka), admitted that 45-50 per cent of their raw cotton was imported from Uzbekistan. The same investigation also uncovered that H&M's Bangladeshi suppliers deal directly with Bextex.
Anti-Slavery International have asked Inditex to confirm whether Bextex is one of their suppliers in Bangladesh, but have received no response. H&M responded to the allegation with the explanation that they do not demand that their suppliers in Bangladesh keep them informed about the source of fabric or yarn.
Many retailers, including Walmart, Gap and Nike have put in place a ban on Uzbek cotton because of the known use of child slavery in the cotton industry. Anti-Slavery is calling upon companies to ban the use of Uzbek cotton until forced labour has been eradicated from the production process. This ban should be clearly communicated and implemented throughout their supply chains.
Anti-Slavery International also calls upon retailers to put in place systems to begin to track and trace the origin of the cotton in their products. Without implementing such measures a commitment to ban the use of Uzbek cotton becomes virtually meaningless.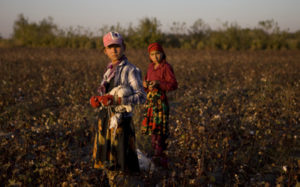 Forced Child Labour
With the help of forced child labour, Uzbekistan produces around 1 million tonnes of cotton, enough to make 1 billion T-shirts. The cotton generates over $1 billion a year. Around 60 per cent of Uzbekistan's cotton ends up in Bangladesh, a major producer and exporter of cotton-based goods to the European Union.
Each year, the Uzbekistan government closes down the schools for up to three months and  forces up to 200,000 children, some as young as ten years old, to pick the cotton harvest.
Children in Uzbekistan are rarely paid for their work and the 'lucky' ones receive only 3-4 US cents per kilo for a product that is worth US $1.15 on the global market. The children can pick up to 50 kg of cotton a day and the work is dangerous, with five reported deaths in 2008, due to a lack of safety precautions.
Children are threatened with expulsion from school for refusing to take part in the harvest. Those who fail to meet their quotas or who pick poor quality cotton are reportedly punished by scoldings, beatings, detention or told their grades will suffer.
Joanna Ewart-James, Anti-Slavery International's supply chain co-ordinator said: "The last thing the British public want to do when they go and buy Christmas jumpers or the usual pair of socks for their loved ones is to be supporting child slavery. It is unacceptable that the cotton used to make these products could be picked by forced child labour."
Juliette Williams EJF Campaign Director, said: "Despite the Uzbekistan government signing up last year to international conventions on child labour it is clear that children are still being forced into the fields to pick cotton that is ending up on the high street. It is time the EU reconsidered its trading position with Uzbekistan, and follows the lead of those major high street retailers who have already said 'no' to Uzbek cotton until forced labour is ended."
Link with UK cotton traders
An invite list of attendees at the annual Uzbek cotton fair in the capital, Tashkent on 14 October 2009, reveals that as well as representatives from the Government owned Royal Bank of Scotland, seven British cotton traders and companies involved in the cotton industry were present.
EJF has written twice to the CEO of Royal Bank of Scotland to raise concerns about its presence and has received no response to date. Joanna Ewart-James, Anti-Slavery International's supply chain co-ordinator said: "The presence of British companies at a cotton fair which sells cotton produced in violation of human rights and through the forced labour of children is of deep concern. We call on the UK Government to advise companies not to do business with the Uzbek cotton industry until forced child labour has been eradicated from the production process."
To receive a fact sheet on the issue and be sent a link to purchase images of Uzbek children picking cotton from the current harvest, contact: Paul Donohoe, Anti-Slavery International Press Officer, on +44 (0)20 7501 8934/07896 783 297 p.donohoe@antislavery.org
Notes for Editors
1. Anti-Slavery International is the world's oldest human rights organisation and campaigns for the eradication of slavery, exposing current cases, supporting local organisations to release the minimum 12.3 million people in slavery, and the implementation of international laws against slavery. www.antislavery.org
2. The Environmental Justice Foundation (EJF) is a UK-based NGO working internationally to defend the natural environment and basic human rights.
3. The investigation by Independent World report can be read at http://www.independentworldreport.com/2009/09/blood-cotton/