From child domestic worker to meeting the Queen
"My mother died when I was fourteen. My father became cruel and said if I wasn't going to get married, I had to leave the home and make my own way. I eventually found work as a domestic worker.
"I looked after two children, I cleaned, washed clothes, fetched water and cooked. There was no one to help me. I would wake up for work at 5:30am and work until I went to bed at 11pm. I did not even get time to rest and was exploited and isolated by my employer."
Angel, like many child domestic workers, was particularly upset by being treated like a second class person and not being allowed to eat with the family. "I was asked to wait until they ate and I would get their leftovers."
Support our work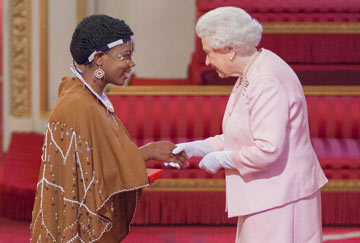 Help us unlock the future of other children like Angel.
"I escaped domestic work because of the violence of my employer's husband. I came into contact with Kivulini, Anti-Slavery's partner in Tanzania in the project reaching out to child domestic workers and building up their skills, confidence and knowledge of their rights. They taught me my rights and responsibilities, and gave me confidence to stand up for my own rights. Thanks to this I was able to refuse to have sex with my employer."
Angel soon became very active and got involved in Anti-Slavery's campaign for the adoption of the International Labour Organization's Domestic Work Convention. She contributed hugely to the positive changes in the Convention in relation to children: she travelled to Geneva and addressed the plenary, talking about the issues child domestic workers commonly face and protections needed.
She went on to set up her own organisation called WoteSawa – or All Are Equal – and is now a campaigner for child domestic workers' rights.
"I am very proud because Wote Sawa is a safe place for child domestic workers. We are here to empower others to be like me and raise up their voices and advocate for their rights.
"It is my dream that I will see domestic workers respected like other workers. I want them to be identified like other workers and recognised by the government. It's my dream that exploitation, low salaries and other forms of violence will not take place."
In 2015, Angel was recognised by the Queen's Young Leaders Foundation and received the award from the Queen.