From bonded labour to land ownership
Based in the remote mountain areas of Nepal, the Haliya are among the world's most vulnerable people. As Dalits – members of the heavily discriminated "untouchable" caste – they have been severely marginalised for generations. Haliya are communities of agricultural bonded labourers who have traditionally been forced to work another person's land under the pretext of repaying an ever-increasing debt.
Ballabh*, was trapped in the Haliya system in Nepal and worked in his landlords' fields day and night without any payment.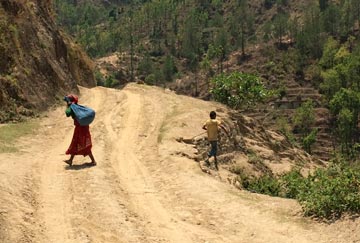 Slavery in Nepal: the Haliya system
Learn more about debt bondage in Nepal
When the Nepal government abolished the Haliya system in 2008 a rehabilitation package was set up to support Haliya people to rebuild their lives. The rehabilitation package provides earthquake resistant housing, farmland or other employment opportunities, education and healthcare for victims of the Haliya system.
However, most Haliya people have limited education and are not aware of their rights. Those Haliya who are made aware of the rehabilitation package don't have the skills, such as reading and writing, to fill in the application forms to participate in the rehabilitation process.
In 2008 Ballabh was officially listed as a victim of the Haliya bondage system. He was given a special ID card that would allow him to access the government's rehabilitation package, however, he was unable to access the support on offer as he did not know how to complete the application process.
It would take another 10 years before he received the support he was entitled to.
In 2018 Ballabh attended a workshop run by Anti-Slavery International partner, NNDSWO.  The workshops were intended to help Haliya people understand their rights and assist them to access the rehabilitation package available to them. Ballabh was helped to obtain the documents he needed to apply for the rehabilitation package and has since been granted ownership of a plot of land.
Anti-Slavery International estimated that by 2019 the rehabilitation program has reached less than 5% of Haliya families. Without support, families affected by bonded labour often fall back into slavery as they lack other options to support and protect themselves.
*name changed