The people of the Haliya caste in western Nepal are some of the most discriminated and vulnerable people in Nepal.
Historically, Haliya people have suffered under a debt-bondage system where they're forced to work to pay off inter-generational debt. The labour is often imposed under brutal circumstances and many find that repayment of the loan is impossible as the debt increases.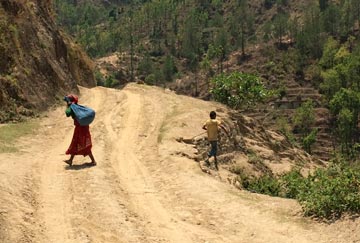 Slavery in Nepal: the Haliya system
Learn more about debt bondage in Nepal
Access to education is one of the largest barriers to Haliya people escaping slavery. Many Haliya haven't received an education, as families struggle to afford to send their children to school. This perpetuates the cycle of exploitation as young people are unaware of, and unable to stand up for, their rights.
18-year-old Bimala grew up in bonded labour with her family. Her mother took on extra work to pay for Bimala's education and she finished school with excellent results. Despite their hard work, further education was out of reach.
Thanks to our scholarship project, Bimala has been able to train as a laboratory technician. With her qualification, Bimala will be able to get a good job and end her family's cycle of poverty. She is excited to complete her training, which will provide her with the skills to access better employment opportunities in the future. One day, she hopes to open her own lab.