"My name is Dideoluwa* and I'm 48 years old.
"I was born into slavery and owned by masters. What I experienced throughout my life was awful. I worked everyday from sunrise to very late at night. At the slightest mistake, I was severely beaten and tortured. I was like a machine, not a human being.
"Timidria (Anti-Slavery's local partners in Niger) helped me leave my masters and settle in the village of Dalloussey. (One of the new villages founded by Timidria for families emerging from slavery).
"But despite no longer being under the same roof as my masters, they still tried to control me, my decisions and actions."
In 2007, together with Timidria, Anti-Slavery opened six primary schools with the aim to break the long-standing bond between people of slave descent and their masters.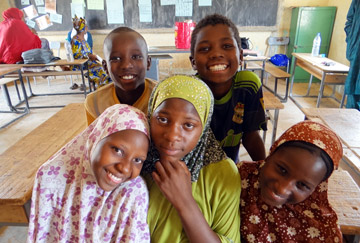 Niger School Project
We work to support communities of former slaves out of slavery in Niger
"When the schools were created, many of us were against them because we believed everything our former masters told us. They said the schools were 'haram' (forbidden by Islam) and that any slave who disobeys their master will go to hell.
"One day, I attended an awareness-raising session on education, where I realised that this was untrue, and I was in fact being deceived by a misinterpretation of Islam. Following the session, I decided to no longer listen to my former masters and enrol all my grandchildren in school.
"Thanks to this project, I am now aware I am a human being, just like everyone else and feel more confident because I now know my rights and duties."
*Name changed