Breaking the bonds of slavery to find freedom.
"I am 70 years old and I lived as a slave for most of my life. From my early childhood I worked all day caring for my master's livestock. All I ate each day was milk from the sheep I tended. I would watch my master's children at their studies each day, but I did not receive an education.
"There was no mercy as a slave. If I made a mistake my masters would punish me physically and mentally. They said that God hated me and that he would punish me, and I could not go to heaven. I was utterly convinced that my right to enter paradise depended on my masters' will. That's why I was so obedient to them!
"Late at night, I would meet my friends who were also slaves. We'd dance and sing to unwind and forget about the hard labour we had carried out during the day and would have to carry out again the following day.
"When I heard of Timidria's (Anti-Slavery's partners in Niger) work, I reached out to them. The staff were really reassuring; they said that if I decided to leave, no master would dare come to force me to return, as they would have in the past. Since I left, I have been making my own living. I was even able to build my own home."
Breaking away from masters
In 2007, together with Timidria, Anti-Slavery opened six primary schools in villages for communities who escaped slavery with the aim of breaking the long-standing bond between people of slave descent and their masters. Many survivors resisted the school for fear of angering God and denying themselves, and their children, entry to heaven.
"I was especially sceptical toward school, because of everything they had told me during all these years. I thought it was a source of disbelief in God", Ghali said.
"One day, I met with representatives from the school. I realised that we had been greatly deceived. Since then, I discovered that the masters were preventing us from enrolling our children in school just to keep us in the dark and maintain their control over us.
"Today, I feel like a fulfilled man who enjoys his freedom. I freed myself from all forms of human submission and psychological domination. I now hope to send my grandchildren to school, to give them a better future. I do not wish my offspring to live with the effects of slavery.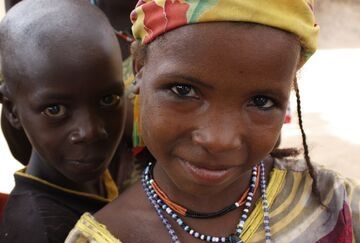 Niger school project
Read about how we are helping end the cycle of traditional slavery in Niger