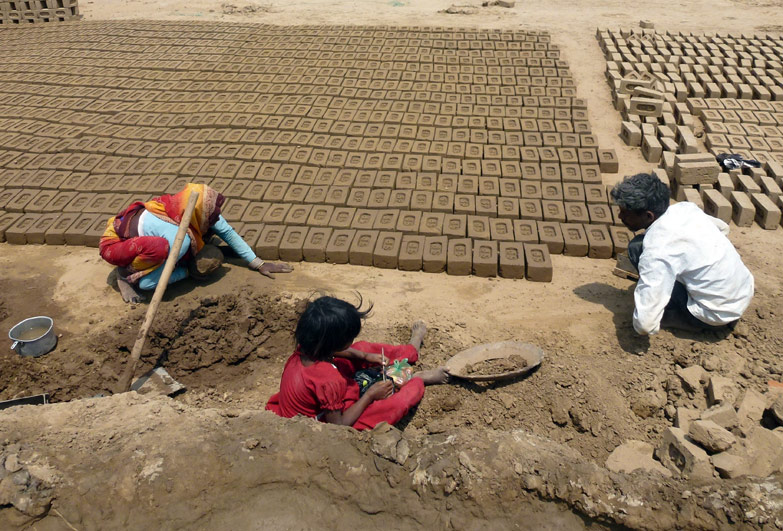 Mahinda and his wife Chanterwati are from central Uttar Pradesh, and, usually every year, they migrate to work in other states with their family of seven children.
"A contractor gave us an advance and brought us to Punjab. Eight other families from our village came with us. We were promised that we would get very good wages, which would allow us to save money for our daughters' marriages, so we agreed.
"However, when we began working we were told our wages wouldn't be paid until the end of the season. We were only paid a petty amount (about 500 INR, £5) each week or two to sustain our whole family. It wasn't enough. We said we'd leave if we weren't paid properly.
"Our contractor then said we could only leave if we paid back the advance, which had already increased from the original amount because we now discovered we had to pay for housing, water, electricity and transport in addition to repaying the advance, and the interest too.
"The debt just kept increasing. We wanted to see the wage records to see how much we were earning each day, and how much of the debt we were paying off, but we weren't allowed.
"They threatened to have our son locked up by the police if we tried to escape."
On one of visits of VSJ (Volunteers for Social Justice, Anti-Slavery's partners in India) to the brick kiln, Mahinda was identified as a bonded labourer.
By telling the contractor that he was travelling home to have the debt paid off, he was able to leave the kiln. He could then make an official complaint to the National Human Rights Commission (NHRC) in person.
With the case registered, VSJ and Mahinda returned to Punjab to the temporary rehabilitation centre, but his family was still stuck at the brick kiln:
"This was a very difficult time for me. I knew that my daughters were being harassed at the kiln, and that my family still could not afford to buy enough food. But I just had to wait."
Finally the NHRC instructed the District Magistrate to send a team to release the bonded labourers at the brick kiln. However, they were freed without debt release certificates.
Corrupted local authorities tried to sweep the investigation under the carpet and harassed the workers to sign statements saying they weren't actually bonded labourers. The brick kiln owner also turned up to intimidate the workers.
Luckily, VJS's lawyer intervened, and the NHRC finally ordered to issue the release certificates for Mahinda, his family and all the other families from the village. Mahinda and his family were finally free.