From Bonded Labourer to Advocate for Change
Manoj* is 25 years old and belongs to the socially excluded and marginalised Dalit community in India. He used to migrate to different states to work in brick kilns to support his family.
In 2015 Manoj, along with 17 other workers, started working in a brick kiln. Demand for bricks was high, so the owner of the kiln insisted that the workers complete orders as quickly as possible.
Workers, many of whom were accompanied by their children, were provided with only enough money to cover their very basic necessities.
For the first few weeks, Manoj and other labourers worked day and night. However, poor working conditions took a toll on their health. They were exhausted and some fell ill.
As they became less productive, the owners started physically and verbally abusing them. He said that as he had paid their migration costs, they were bound to work for even longer hours.
When the workers finally approached the owner and told him that they wanted to go home, the owner refused to let them leave. He put guards in the kiln to intimidate the workers and stopped paying them any wages at all, even to buy food.
Manoj became aware of the helpline run by Anti-Slavery's partner Volunteers for Social Justice (VSJ) and reached out. He assisted with collecting evidence against the kiln owner, and the workers were soon rescued. VSJ also assisted the workers in claiming compensation for the bonded labour they suffered.
He never considered going back to work in brick kilns. Instead, he used the compensation money to set up a fruit stall.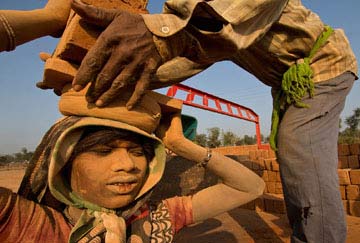 Slavery in India's brick kilns
Read about the widespread debt bondage affecting India's marginalised Dalit community.
After the rescue, Manoj participated in the Social Advocates program run by another Anti-Slavery partner Jan Sahas, called the Barefoot Lawyers. The program trains workers who have escaped bonded labour on legal matters and their rights.
Manoj says that he was unaware of his rights and the social entitlements available to workers like him. This was a major reason why he fell into the trap of bonded labour.
After training as a Barefoot Lawyer, Manoj was able to connect people in his village with schemes for housing, food support, medical assistance and social insurance. He is also helping people understand their rights and how to claim them, especially in connection to disputes with their employers.
Manoj believes that workers have the right to work according to their own wishes and is committed to fighting against the bonded labour system which continues to trap so many people across India.
*Name changed