Finding a voice and standing up for her rights.
In Tanzania some children have to work to support their families, which can leave them vulnerable to exploitation and abuse. Children who are employed in domestic work will often be unaware of their rights, or unable to express themselves, due to leaving school at a young age. Child domestic workers are also often less able to stand up for themselves against an adult employer due to imbalances of power and cultural expectations.
We believe that children who are forced to enter domestic work due to their family situation should be treated fairly and have access to justice and support to assert their rights.
Martha* was 15 when she became a domestic worker in Tanzania. In the beginning, everything went well. But after a few months her employer started to change. She became rude, assigned her an overwhelming number of tasks and didn't pay Martha her monthly salary.
Eventually, Martha became tired of working such long hours for no pay and wanted to return home. She approached her employer to request her salary, but her employer refused her request. That night she turned on Martha, attacking her physically and shouting that Martha had become too stubborn and difficult. She then set fire to Martha's things, burning all her clothes. Then she chased Martha out of the house, insulting her, and locked the door.
As it was nighttime, Martha didn't have anywhere to go, so she decided to sleep outside. In the morning she went to see a neighbour and told her what had happened. The neighbour went to talk to the employer, but when the employer continued to be hostile the neighbour took Martha to Anti-Slavery International's in-country partner, Rehhma.
Through Anti-Slavery International's project, Rehhma supported Martha to take legal action against her employer to recover her pay.
Eventually Martha's employer admitted that she had assaulted Martha and burned her clothes, that she hadn't been paying her salary and had fired her without any reason and was forced to pay Martha what she was owed.
While at Rehhma Martha also received  counselling and ongoing support from staff to help her recover from her experience and decided what she wanted to do next.
In the end Martha chose to take a job with the neighbour who had brought her to Rehhma, where she is being treated fairly and is making plans for her future.
*Name changed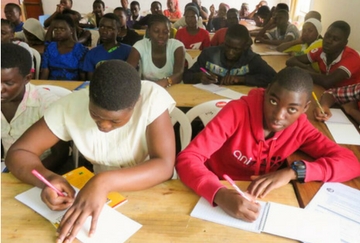 Tanzania project
Transforming the lives of children who suffered domestic slavery in Tanzania