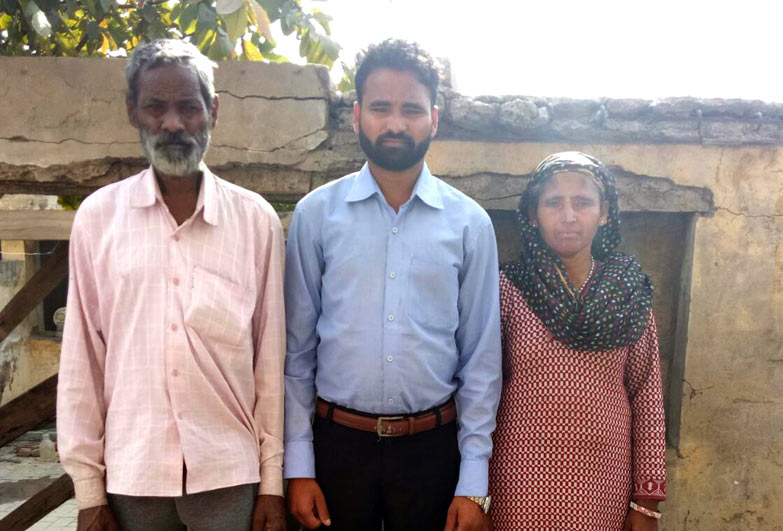 Mohan Lal and his wife Bhagavati come from a village in Rajasthan, India. They are Dalits, a caste that commonly suffers discrimination and poverty.
In 1992 they travelled to work at a brick kiln in Punjab with dreams of a better life.
Originally, they had planned to work only for one season. However, they were forced to stay at the same brick kiln for 25 years after becoming trapped in debt bondage – they initially took out a loan to move, which was then controlled by the brick kiln owner.
When Mohan and his wife were allowed to go back to Rajasthan for the marriage ceremony of their daughter, the owner detained the youngest son as a collateral security to ensure they return to the kiln.
They had three children at the kiln and brought them up there. As a family they worked as 'Nikasi'– or brick carriers.
During all these years, not a single family member was paid their full wages. Most of their earnings went towards the repayment of the loan, and they were only given enough money to survive.
Support our work
Help us free people from debt bondage like Mohan and Bhagavati
They were never able repay it in full, and instead had to take another loan time and time again, falling into a never-ending cycle of debt. At the end of 2017, the brick factory owner claimed that Mohan still owed him 70,000 Indian Rupees (around £800).
Mohan and Bhagavati managed to educate their children, which is very unusual for brick kiln workers. Finally when Hardeep, their youngest son, was stopped by the kiln owner from attending his graduation exams, he contacted Anti-Slavery's partners Volunteers for Social Justice (VSJ) for help.
VSJ obtained an official order and local magistrate, although reluctantly, were forced to act and free the family.
The family has stayed in a VSJ safe house and received an immediate support, whilst VSJ are bringing their case forward to obtain the official debt bondage release certificates and the compensation.