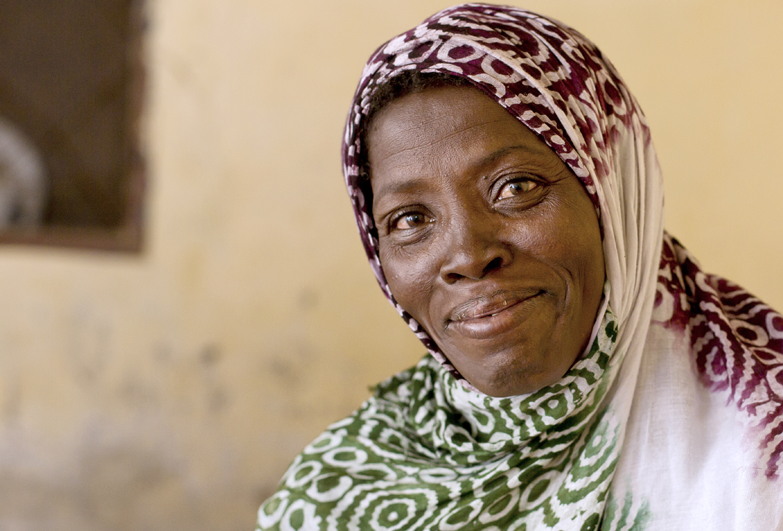 "I grew up working as a slave for a family. My mother worked for them before me and my children also worked for the family once they were old enough. It was hard work and we had to go out and look after the goats in the day and then come back and do all the housework in the evening. I didn't always get enough to eat and was beaten regularly.
"My children all grew up working for the family too. Two of my girls are the daughters of the master's eldest son. He said he would behead me if I ever told anyone they were his.
"When I had my fourth child, a baby girl, the family wouldn't let me take her out to the fields with me. I came home one day and found that the baby had been left out in the sun all day. She had died and her body was being eaten by ants.
I had to bury her myself, with my hands; it felt like I was burying an animal instead of my child.
"One day they sent me to another home. My new master was a colonel. The policemen saluted him when they came round.
"Later, the Colonel said he wanted to marry me, but I was already pregnant at the time. When he learned this, he decided he would marry my eldest daughter instead. She was very young. She cried and cried.
"Well, he called it marriage, but there was no dowry, no ceremony, nothing. It was just a way to abuse her. He used to make me watch him rape her at gunpoint. He raped me too, in front of my two daughters, threatening us all with his gun. He did this on several occasions.
"Then my daughter became pregnant, but he didn't want his wife to find out that he had 'married' this young girl. He made us get in his car and he started driving out up and over the dunes, fast. I knew he was trying to make her miscarry.
"A few days later, she became very ill. She gave birth, but the child was stillborn – it was blue.
"He took my daughter back but he threw me out. I went and found my older brother and told him what had happened. He went to Boubacar (the President of Anti-Slavery partner in Mauritania SOS-Esclaves) and told him my story.
Support our work
Help us free people born into slavery like Moulkheir.
"Whilst I was arranging with SOS-Esclaves to rescue my daughter, she managed to escape for herself, with help from some Haratine (ethnic group of slave descent) neighbours.
"Now I have my daughter back I am pressing charges against the Colonel, for the slavery and the rape of my daughter. My life has changed.
"I arrived here like a crazy person; I didn't even know how to behave around people. But it's been with the help and support of the members of SOS-Esclaves that I have found a new life. I have even been trained in dyeing and sewing veils."
Escaping with the help of SOS-Esclaves and Anti-Slavery International, Moulkheir is now pressing charges against one of her masters. However, her children are unable to enrol in school due to their lack of identity documents, notoriously difficult to obtain for people who escape slavery.