From Bonded Labourer to Businessman
We believe workers and their families should be protected from being trapped in debt bondage. However, bonded labour and child labour are endemic across India's brick kiln industry.
Vishal* and his family were trapped in bonded labour in India after taking a loan from an agent to travel to a job in a brick factory in another part of Punjab, a state in northern India.
Under the terms of a contract they agreed with the agent, the family would receive part of the wages from their work to live on, and the rest would be taken to pay down the loan. However, brick kiln workers typically find it impossible to repay the initial debt because the wages are often much lower than promised, factory owners deduct money for living expenses or charge fines for faulty work, whilst at the same time increasing interest rates over the initial loan. Workers quickly lose control over their situation and find it impossible to escape.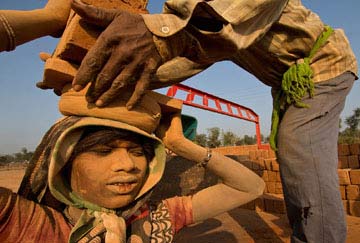 Slavery in India's Brick Kilns
Learn more about the human cost of debt bondage in India's brick kilns.
Vishal's family first noticed a problem when they attempted to collect their wages to buy food. The kiln owner gave them a very small amount that was not enough for the family to live on. When Vishal asked the kiln owner for more money, he refused.
Over the next month the family found it increasingly difficult to fulfill their most basic needs on the low amount of money they received, so they tried to return home. However, the agent told them they must either pay their debt back in full straight away or continue to work at the brick kiln. Unable to find a way to raise the money the family was forced to stay and continue working.
Vishal became aware of Anti-Slavery International partners Volunteers for Social Justice (VSJ) through a nearby brick kiln and reached out for help through a free helpline run as part of Anti-Slavery's project. VSJ immediately organised a rescue mission and helped the family escape the kiln.
However, even though bonded labour is outlawed in India, the authorities were not interested in supporting the family and pursuing the case against the owner of the brick factory. It took VSJ two years of following up on the case for the family to finally receive formal bonded labour release certificates and relevant compensation.
The family used their compensation to purchase two sugarcane juicers and started a small agricultural business so that they would never be forced into bonded labour again.
*Name changed