Asia Programme Manager Sarah Mount on the new hope for exploited children across India.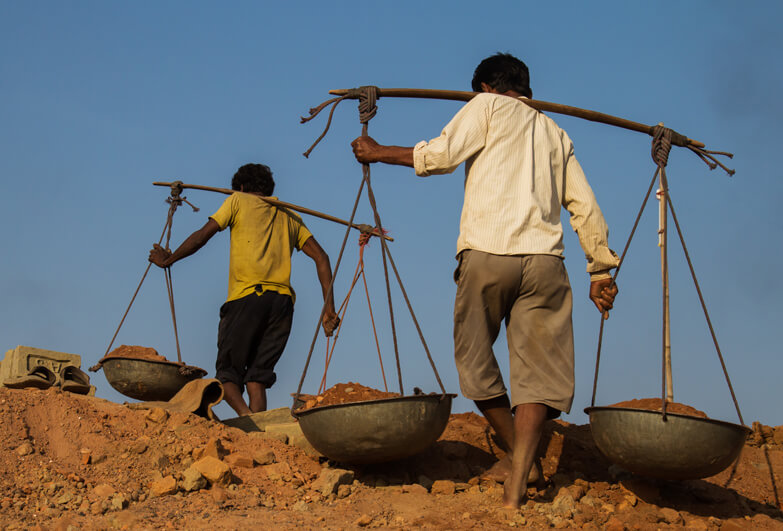 "I fear for my children. What if they become like us, without a house, without food, always desperate."
Puspal, – mother and former bonded labourer, April 2016.
India has ratified two international legal treaties that relate to child labour, the Worst Forms of Child Labour Convention and the Minimum Age Convention.
This is great news – it is something that Anti-Slavery International and our partners in India have consistently advocated for a long time.
We regularly see children working in hazardous conditions in a range of sectors and not going to school. This often leads to a cycle of labour exploitation and slavery – where children grow up with limited education and exposed to environmental and health risks for a long period of time, grossly limiting their future opportunities.
What the parents fear – "what if they become like us, without a house, without food, always desperate" – is unfortunately very likely in this situation. The cycle of labour exploitation and slavery continues.
One of our current projects works with adults and children in brick kilns. Research that we have undertaken and will publish later this year found that 65-80% of the children between the ages of five to fourteen living in the brick kilns were actually working. And they were not just working a few hours a day, but on average nine hours per day in the summer months and seven hours per day in the winter months.
Whilst this is actually illegal in India under different laws, the monitoring and implementing of these laws and ensuring positive proactive measures to ensure children are attending school is not happening. Importantly, systemic change to tackle the bonded labour situation of parents of these children is being overlooked. If informal employment systems are reformed, if workers were being paid properly and according to a time-based wage rather than per piece, which incentivises employing children to help out to reach the targets, then vulnerabilities of children would also decrease.
Why it matters
If the laws exist but aren't implemented, how would ratifying two more conventions help then?
Agreeing to ratify both the Worst Forms of Child Labour Convention and the Minimum Age Convention is a step forward, and broadly speaking there are four reasons for it. Under these international laws the Government of India will be bound to:
Ensure children under 18 are not subject to slavery or practices similar to slavery, such as the sale and trafficking of children, debt bondage and serfdom and forced or compulsory labour.
Whilst there are a number of laws in India that do prohibit slavery and practices similar to slavery that affect children, there are still a lot of gaps in implementing these laws on the ground. Agreeing to this at an international level shows that the government is further committing to seriously tackling child trafficking and bonded labour; issues that we and our partners deal with every day.
Ensure all children under 14 are not working.
This generally accords to the recently amended domestic law – the Child Labour (Prohibition and Regulation) Act – which states that children under 14 years of age are prohibited from working in any industry. This also complies with the Right to Education Act in India, which states that children under the age of 14 must go to school.
However, unfortunately there is a loophole in the recently amended Child Labour Act that says that children under 14 can work with their family or in a family enterprise after school hours or on holidays. Our partners in India and many other NGOs are advocating to the government to address this. Even without the loophole, the reality is many children are working and not attending school, yet the different arms of the government are not taking sufficient pro-active measures to address this.
Children under 18 cannot work in hazardous industries.
Whilst the Indian Government has regulated this for some time, the recently amended Child Labour Act actually significantly reduces the number of industries that are listed as being hazardous. For example, both brick kilns and domestic work, industries that we focus on because of their high prevalence of children's exploitation, are not included in the list of hazardous industries. We hope that the government will reconsider this and act to regulate the employment of children between the ages of 14-18 working in hazardous industries.
Require the Government to report on implementation and compliance.
This is useful as it will help in monitoring the implementation of these laws, and hopefully help to prompt all arms of the Indian Government (national, state and district levels) to take proactive measures to take the poverty and labour exploitation of parents and often subsequent child labour of children. In short, the Indian Government will have to regularly report on progress, which brings a lot of scrutiny and apples additional pressure to implement the law.
This is a great step forward, which we and many others have advocated for for years. Hopefully it will be a milestone towards ending the child slavery and the cycle of exploitative labour and slavery in India.