On Anti-Slavery Day, broadcaster Julie Etchingham writes about stories of victims of slavery that made her take action.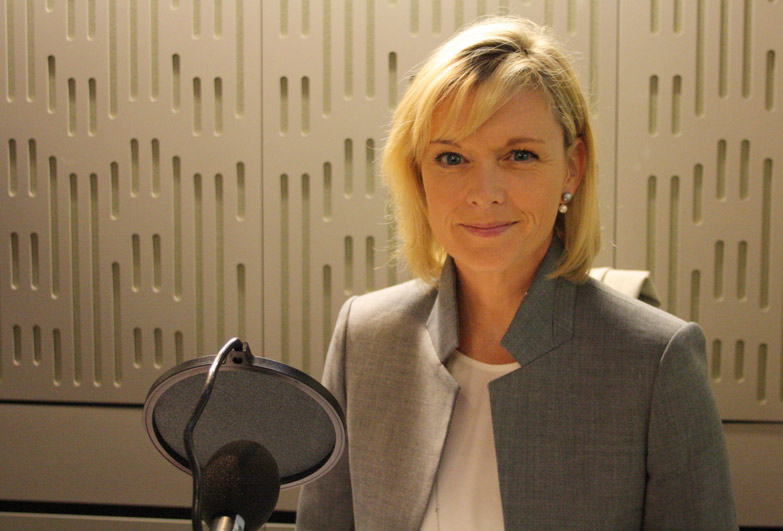 18 October 2017
The reason I'm delighted to be asked to support Anti-Slavery International's work, and the reason I'm so keen to help raise the profile of this issue – is that I believe once you've heard the story of just one victim of modern slavery it never leaves you.
My first encounter with a victim of modern slavery was nearly 12 years ago. Like most people, I had no understanding what human trafficking was – and I couldn't quite believe that slavery could still be happening.
I was taken to Holloway prison to meet a young Nigerian woman. She'd been arrested after working as a prostitute: on the face of it, and in the eyes of the law at the time – an illegal immigrant with no passport. We sat with her at visiting time and she told me her story – which over the years reporting on this issue has become a horribly familiar one.
She'd been brought to London on the dream of a better life and on the promise of a job in catering. She'd paid her trafficker for the journey. But she arrived in the capital to have her passport taken by the trafficker and was forced through violence out onto the streets.
She rolled up her sleeves and showed me the scars from where she had been beaten with a belt. She'd also been infected with HIV – her trafficker wouldn't even allow her to go to a doctor to get the drugs she needed.
It is a story of exploitation, coercion and slavery which I have now heard from a host of different women from all over the world and here in Britain. Gradually over the past decade more and more of their stories are now coming to light. I won't forget Lucy – a young Filipino woman kept in domestic servitude, forced to steal the nappies of the children she cared for because she had no money to buy sanitary towels. Bella, a seamstress from Albania driven to the Eurostar on the back of a truck; drugged and brought to a brothel.
And a month ago I met a Vietnamese woman called Thanh: now 36,  she had been thirty years a slave: first trafficked from Vietnam into China as a child – put into the sex trade – then trafficked to Russia as a farm labourer – and onto France for more sexual abuse: and finally to London. Of all the stories I have heard hers was the most shocking.
As globalisation has become the defining force of the 21st century – so human trafficking and modern slavery have become the ultimate corruption of it.
Men, Women and children traded or exploited as goods: the ultimate re-usable, resell-able commodity: sometimes across endless borders; always plumbing endless depths of inhumanity.
Anti-Slavery International understands this modern scandal in all its complexities and its many manifestations.  Because of its own long history of campaigning on this issue it has an unrivalled depth of knowledge and expertise. It investigates and exposes; it pushes lawmakers and governments around the world to take a stand and holds them to their promises; it supports communities vulnerable to exploitation.
And most crucially — it helps those who've fallen into the hands of slave masters, and survived.
Like Sophia – a 14 year old girl in Tanzania, who was one of an estimated million children doing domestic work in the country. She was forced to work 17 hours a day: verbally abused and worse by her employers – going for months without pay. Eventually orchestrating an escape – Sophia was lucky to be put in touch with one of ASI's partners in Tanzania, who got her out – got her help – and crucially got her back to school. Just one life in countless tens of thousands around the world which Anti-Slavery International has unlocked from slavery.
Anti-Slavery's steadfast refusal to "look the other way" is what has always driven and continues to drive its inspiring work. And it's work which began a hundred and seventy five years ago – with its roots in the first abolition movement which ended the transatlantic Slave Trade. What a scandal that it has had to adapt its efforts to counter slavery in the 21st century.
One of the key things which has struck me about the women who've been courageous enough to share their experiences of modern slavery – is that they all use the same language about what slavery does to a human being. They speak of being behind glass; trapped in a bubble; unable to shout for help.
One young British woman, trafficked between members of an Afghan gang here in Kent – and once sold for a bag of chips told me: "It's like being at the end of a long dark corridor on your own. You're just cut off. You can only hear voices far away".
Anti-Slavery International not only hears the voices of the men,  women and children caught in the horrifying reality of modern slavery – it responds to them, amplifies them, campaigns for them. And most crucially – It gets them out – and it get things done.
It's such a privilege for me to be involved in Anti-Slavery's work and to ask you, the reader, on their behalf to support them in whatever way you can. Thank you.