Our supporter Carly Parsons on her London Marathon run and why she supports Anti-Slavery International.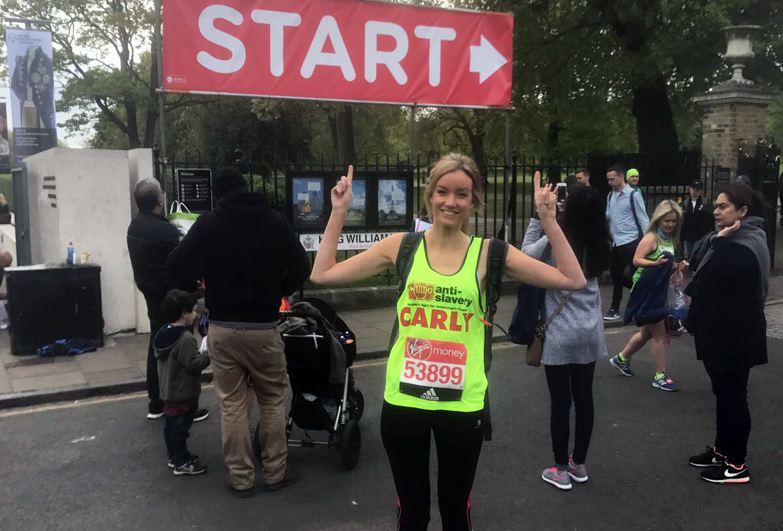 19 May 2017
As a lawyer, I have always been interested in access to justice and human rights. I first learnt about Anti-Slavery International by attending a talk the director Aidan McQuade gave about the Modern Slavery Act. I was immediately taken by the huge breadth of work that Anti-Slavery International is involved with and its fantastic achievements throughout its 178 year history.
What struck me after that talk was how slavery is hidden behind closed doors, but it is also right in front of us as part of our everyday lives. It is everywhere, in towns, cities and rural communities across the world.
In fact, in 2014, a young mother of two, who was beaten, tortured and accused of witchcraft in her home town in Nigeria, was trafficked to the UK by British "friend", who took her passport, plied her with drugs and alcohol and forced her into prostitution, sleeping with up to ten men a day. This was just down the road from my flat in Lewisham.
Slavery is in the food we eat, the clothes we wear and the devices we use. It is the cheap manicure before going for a night out, or the cash-in-hand cleaner that hands that cash straight over to someone else. And it's children, forced into mines, harvesting organs, forcing young girls into marriage. It's horrible to even write but there are kids all over the world actually experiencing that. It defies belief.
I love that Anti-Slavery combines frontline projects and support networks for victims, with advocacy, lobbying and campaigning against all forms of modern slavery. It brings the issue into people's consciousness which, if not for them, would be largely forgotten about.
I love that Anti-Slavery combines frontline projects and support networks for victims, with advocacy, lobbying and campaigning against all forms of modern slavery.
And the work they do actually changes and improves the law, as seen through the huge success they had with strengthening the drafting of the Modern Slavery Act. That's quite something! Their on-going work in supply chains is treating the issue at its source and making big business accountable, and I look forward to hearing more about their successes in that regard in the coming months and years.
I knew about the work that Anti-Slavery International did, but one of the great pleasures I took from the marathon was teaching other people about it. People don't talk about slavery enough but it was so amazing how quickly people engaged and wanted to hear more. As a result, I managed to raise £4,268.92 from my hugely generous family, friends and work colleagues. It was a complete honour and I was absolutely thrilled.
As for the marathon itself, it is an incredible and awful experience. I trained for six months through the cold, wind and rain of the winter in London, but the sense of achievement after finishing the 26.2 miles was huge. I could barely run 5k before I started, so I worked hard at building up my fitness and ability to "just keep running" through the blisters and the aches and pains.
I would recommend it to anyone, although be prepared for some serious highs, but also terrible lows. Through all of that, I would do it again in a heartbeat!
Thanks to Carly for her amazing effort, and going through blisters and pain for Anti-Slavery. The funds she raised will help us carry on our work until we end slavery once and for all. If you are inspired by Carly's top effort, find out how you can take action to raise funds, awareness and campaign for a world free from slavery, and donate or become a member to support our work.