Our supporter Paul Henty on his incredible challenge running three marathons for Anti-Slavery International.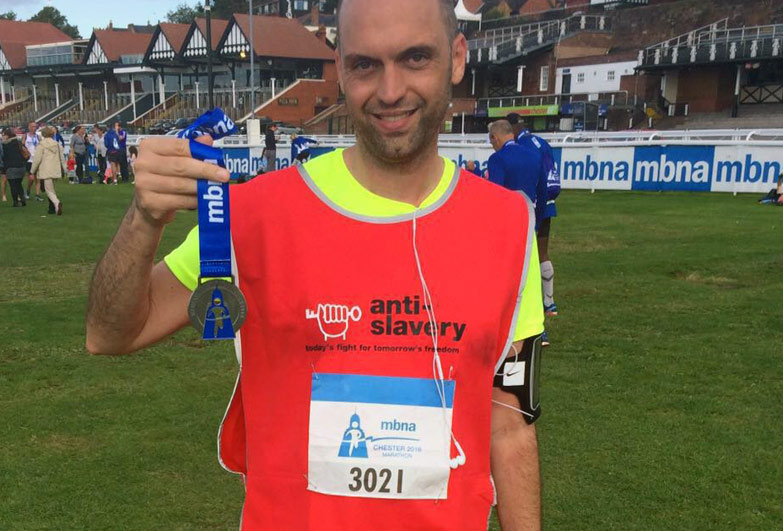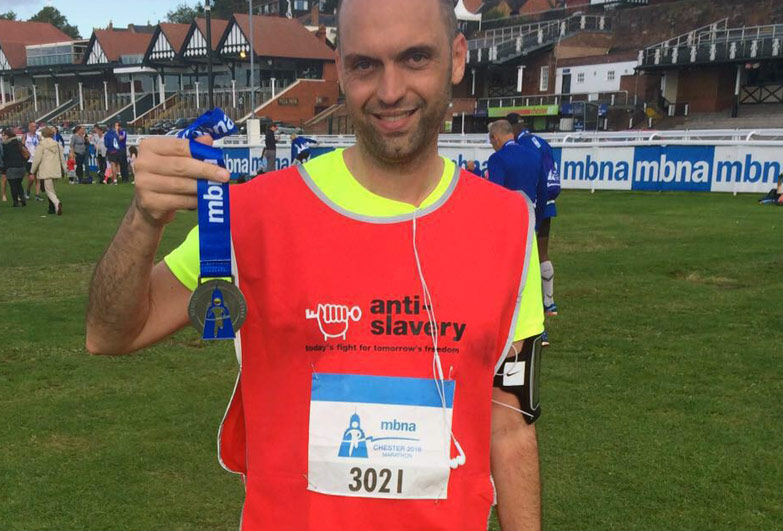 14 October 2016
What inspired you to do this?
I ran my first marathon early this year, enjoyed it and wanted to do more. I particularly wanted to take on Loch Ness and Chester which happened to fall on consecutive weekends. "I can do this" I thought and bravely signed up to do them back-to-back.
Imagine my horror when, a week later, my brother announced my surprise birthday present: he had signed us both up to do the Oslo marathon, which fell a week before the Loch Ness one!
Ignoring the protestations of friends and family that this was sheer madness, and prompts by my wife to consider updating my will (true story!), I began my training.
Why Anti-Slavery International?
It was a colleague who rightly suggested that such a crazy challenge could raise good funds for charity. As the only UK charity dedicated to fighting slavery, Anti-Slavery International was a natural choice.
I am a lawyer and have been advising many of my firm's clients on the UK Modern Slavery Act. I am aware of how hard Anti-Slavery worked to bring this law to the statute books and how they work hard to assist victims of slavery around the world.
The tragedies of exploitation in Indian brick kilns, in European cannabis farms and Uzbek cotton fields don't always make the headlines.
How did it go?
I got off to a great start at Oslo, setting a personal best of 4 hours 29 minutes.
But the next course in Loch Ness was by far the hardest. Runners were taken on a one hour coach to the most remote race starting point I have ever seen.
Although there was no sign of "Nessie", I did encounter a couple of wild beasts at Mile 17: two agitated adult horses escaped from a nearby farm and entered the course at the exact same moment I was running past them. Racing each other two abreast, one of them gave me a stare and I was convinced I was going to get charged.
Thankfully, police shepherded them off the course and no-one was hurt. I completed the remainder of the course without incident and finished in a respectable 4 hours 37 minutes – not being stampeded was an added bonus.
By now though, I was concerned I wouldn't be fit in time for the Chester race. Thankfully, by the Friday I had made a pretty full recovery. Cheering Welsh villagers generously offered tired runners gels, water, jelly babies and at one point even free beer as we passed a pub! I crossed the line in a respectable 4 hours 33 minutes and hugged my wife in disbelief that I was still alive.
Final reflections
Beer and hamburgers have never tasted as sweet as they did that afternoon in Chester. I have only been running seriously now for a couple of years so I am really pleased I was able to pull this off.
I am really happy that I have been able to support ASI and reach my fundraising target for them, thanks to the generosity of my family and friends and colleagues at Charles Russell Speechlys. It has been great to have had the strong encouragement and support of Anti-Slavery who, in turn, I hope to continue to support into the future.
Thanks, Paul!
Find out how you can take action to raise funds, awareness and campaign for a world free from slavery. Donate or become a member to support our work.