Talibé children experience abuse and ill health new report shows, a blog by Africa Programme Officer Kenza Ben Azouz.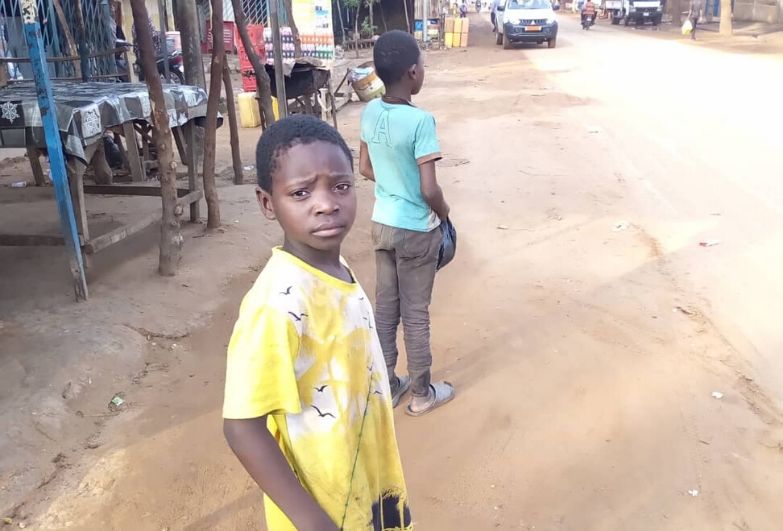 June 2020
Thousands of boys attending traditional religious education schools (Qur'anic schools) in Niger are commonly forced to beg on the street, our new report (French only) reveals. The research, conducted by Anti-Slavery International, ANTD and RADDHO, highlights how boys attending residential Qur'anic schools, known as talibé, are not only forced to beg, but are at risk of abuse, forced labour and road accidents.
In Niger, these talibé boys, typically aged 6 to 17, are from poor families. The schools are under-resourced and few offer a  diversified general education, beyond the memorisation of the Qur'an. As a result, children spend most of their time being sent out on the street to beg. The boys leave the schools illiterate, with no qualifications, and extremely restricted prospects for their future. Cut off from their relationships with their parents or villages, they often have no choice but to continue begging to survive, leaving them extremely vulnerable to crime or prostitution networks, and non-state armed groups.
The majority of the Nigerien people are profoundly attached to Qur'anic spiritual education and do not call for the outright abolition of this educational system. There is a growing call for the regulation of Qur'anic schools, and for the issue of talibé welfare to be prioritised by the Nigerien State. This would include supporting Qur'anic teachers (Marabout) with strong, culturally appropriate and lasting solutions to the problem of begging and the exploitation of talibé.
The popularity of Qur'anic school in Niger is complex. Traditionally, attendance at Qur'anic boarding school has been perceived by families, particularly those living in poverty, as a chance for children to receive vital lessons in humility and religious fulfillment. As 70% of people in rural Niger, where many of the children are from, are living in endemic poverty, the chance to attend a Qur'anic residential school in an urban centre is valued. Families are rarely aware of the lack of food hygiene and educational provisions putting children at risk as a consequence of being at the school.
Key facts

In total, 86,824 talibé and 1,543 Qur'anic schools were identified. We estimate that currently there are more than 160,000 talibé, spread across nearly 2,500 Qur'anic schools throughout Niger.
Among the 86,824 talibé identified, at least 76,080 were forced to beg.
85% were more than 7 years-old at the time of their admission into Qur'anic school, and 13% were aged 6-to-7 years-old.*
65% came from rural areas in Niger. A minority came from neighbouring countries having generally been trafficked into Niger by Qur'anic masters.
91% were sent to Qur'anic School by their parents.
83% come from families living in extreme poverty.
98% of Qur'anic teachers admitted to requesting a daily payment – in general, only talibé supported by their families are exempt from begging.
On average, talibé who are forced to beg devote nearly 9 hours a day to begging. Overworked, they barely spend 25% of their time studying the Qur'an.
In addition to forced begging, talibé are exploited to work on their Qur'anic masters or other farmers' lands (75%) or in petty trade (selling water, porter, housework, small businesses, etc, 41%)
99% of talibé had already been assaulted while begging on the street (35% of these assaults were physical and 64% were verbal) and 64% have already had, or almost had, a road accident while begging.
With extremely limited access to water, talibé usually wash no more than every two weeks, their clothes are rarely cleaned, and they rarely have shoes.
Malnourished and with no access to decent housing or medical care, talibé are vulnerable to malaria, dermatosis, food poisoning and other illnesses.
Improving the conditions of talibé requires a strong commitment from the state to consider the needs of talibé in government plan and interventions, including those run by ministries such as Justice, Primary Education, Literacy, Interior and the Promotion of Women and Protection of Children. Effective interventions that address both the immediate welfare concerns in Daaras, and the socio-economic pressures, need to put in place.
The provision of support to Qur'anic teachers through training in child protection, awareness-raising, and experience-sharing sessions, and through the creation of income-generating activities to better resource the schools and the children who attend them will improve educational outcomes, tackle child slavery and reduce the risks of abuse, keeping children safe and helping them to prosper.
Recommendations/solutions

Bilateral relationships must be established with neighbouring countries to stop the movement of talibé children across national borders.
Broad reaching awareness-raising campaigns on the fundamental rights of the child should be undertaken, targeting communities and parents sending children to Qur'anic schools.
Further research and mapping must be undertaken to accurately identify the numbers of talibé children living in Qur'anic schools, in order to effectively develop strategies to address vulnerabilities.
Adequate resources must be allocated, and the clear instructions disseminated, to law enforcement and welfare agencies, directing them to investigate ill-treatment and exploitation cases, including during street patrols and border controls.
Qur'anic masters violating laws relating to talibé forced begging and exploitation, must face effective prosecution, with sentences proportional to the gravity of the offenses and crimes committed.
There must be systematic involvement of populations, including talibé, in debates and in the elaboration of plans, policies, and programmes relating to Qur'anic education, especially in rural areas more resistant to change.
We have supported the creation of an associations of young and former talibé to channel talibé voices and act as a privileged interlocutor to institutions pertaining to Qur'anic education. This program should be expanded, and the opinions of these associations interwoven with future efforts.
*The research was informed by interviews with 840 talibé and 51 Qur'anic teachers in traditional (residential) Qur'anic schools; 51 talibé parents; and 58 key informants (child protection experts, academics, public authorities, and state figures).