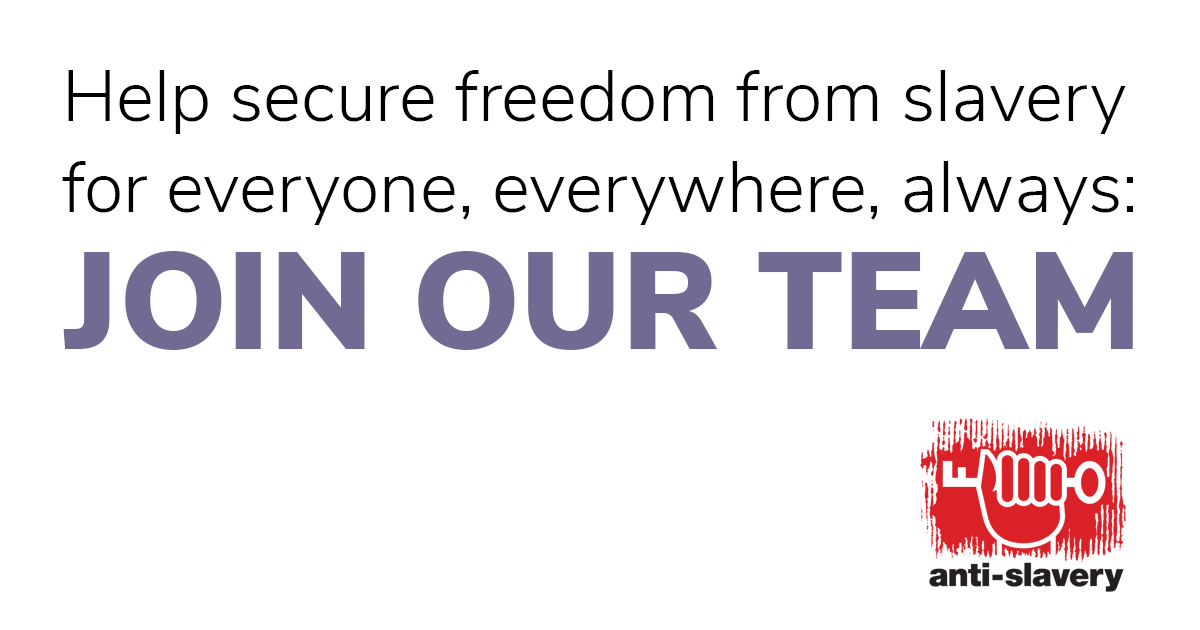 We are Anti-Slavery International, the world's longest-running human rights campaign. Since 1839 our brilliant team has helped secure freedom from slavery for people across the world. We're often on the lookout for people to join us: from researchers and project managers, who can help us develop interventions to tackle the root causes of modern slavery wherever they occur, to communicators and fundraisers, who help to promote and sustain our work. If you're passionate about human rights and think you have the skills and dedication we're looking for, please consider applying for one of the roles below – or drop us an email at info@antislavery.org if you're interested in volunteering with us.
Whether you're looking for a job or a volunteering role, please read this About Us document before applying, to understand more about who we are, what we do and how we do it.
Across all of our roles we particularly welcome and encourage applications from survivors of modern slavery, Black and Asian candidates and those from a diverse ethnic background, people with disabilities, LGBT+ and non-binary candidates.
We're looking forward to hearing from you.
Current vacancies
Business and human rights manager. Responsible business is one of Anti-Slavery International's four strategic themes. Your role will be to lead this area of our work, taking forward and strengthening our advocacy strategies to end forced labour in supply chains. You will build upon an existing body of internationally-leading campaigns and projects, and scope out and develop new ways of working and programming. Deadline: Sunday 26 June. Application pack.