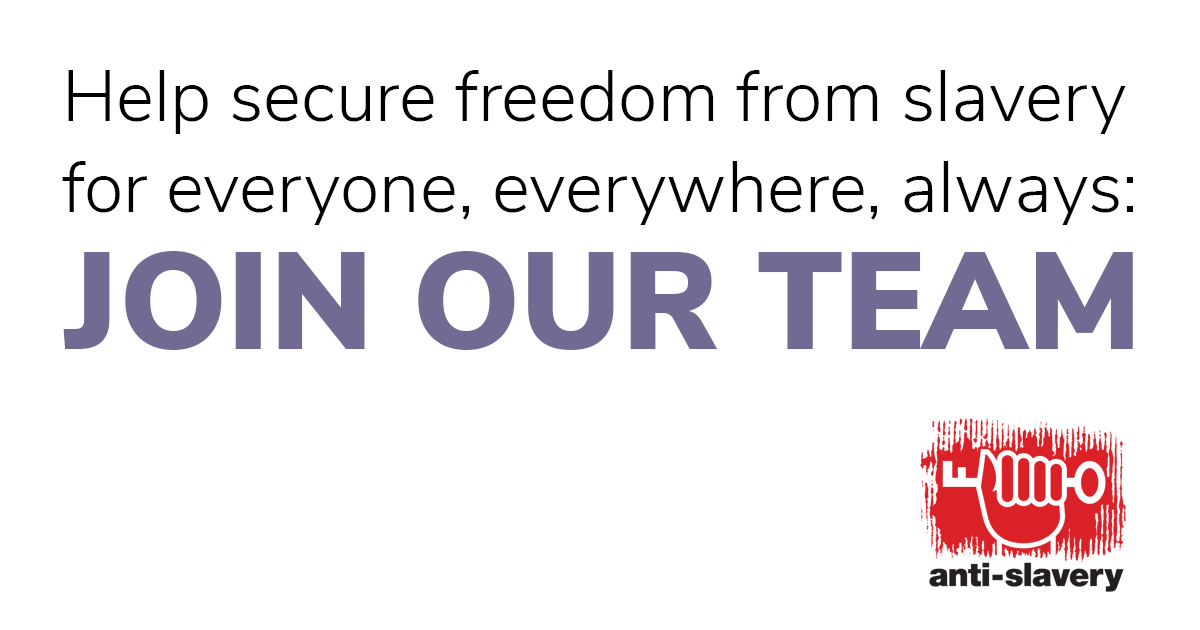 We are Anti-Slavery International, the world's longest-running human rights campaign. Since 1839 our brilliant team has helped secure freedom from slavery for people across the world. We're often on the lookout for people to join us: from researchers and project managers, who can help us develop interventions to tackle the root causes of modern slavery wherever they occur, to communicators and fundraisers, who help to promote and sustain our work. If you're passionate about human rights and think you have the skills and dedication we're looking for, please consider applying for one of the roles below – or drop us an email at info@antislavery.org if you're interested in volunteering with us.
Whether you're looking for a job or a volunteering role, please read this About Us document before applying, to understand more about who we are, what we do and how we do it.
Across all of our roles we particularly welcome and encourage applications from survivors of modern slavery, Black and Asian candidates and those from a diverse ethnic background, people with disabilities, LGBT+ and non-binary candidates.
We're looking forward to hearing from you.
Current vacancies
Digital Mobilisation Officer (Hybrid/Flexible). We are recruiting a Digital Mobilisation Officer to join the Fundraising and Communications team. This is an exciting role that plays an integral part in mobilising our digital audiences and delivering on our organisational strategy. If you're a digital-first campaigner with an interest in human rights, please apply by 25 May, 2023. Application pack. 
Programme Assistant – Regional Advocacy Programmes (French speaking). We are recruiting for a Programme Assistant to support our regional advocacy work. The team currently works with partners in five countries in Africa (Tanzania, Ghana, Mali, Niger and Mauritania). If you're interested in this role, please apply by 5 June, 2023. Application pack.
Current volunteer opportunities
Investment Adviser. This role will be a key part of our governance structure providing independent direction and support to Anti-Slavery International as it seeks appropriate investments and the board in its scrutiny and oversight of investments and returns. Application pack.