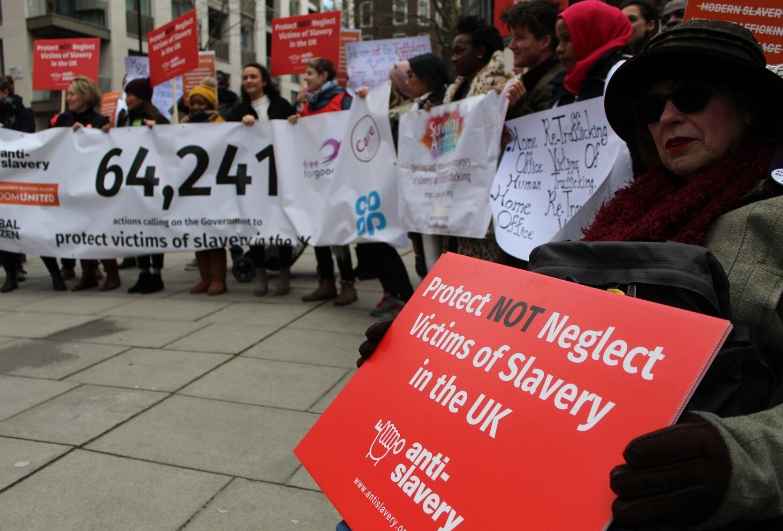 The first to stand up against slavery
Anti-Slavery International was the first organisation to campaign against slavery in modern-day Britain. We lobbied for basic legislation to tackle slavery and to protect those enslaved, as well as raising awareness on forms of slavery among both the public and authorities.
Our early successes included a successful campaign to convince the UK Government to ratify the Council of Europe Convention on Action against Trafficking in Human Beings, in 2009; our campaign in 2010 with human rights group Liberty led to the UK parliament making forced labour a criminal offence; and convincing the UK government to opt in to the European Union Trafficking Directive, a key move that lay down foundations for today's anti-slavery policies.
To monitor the UK's progress we founded the the Anti-Trafficking Monitoring Group (ATMG), a leading coalition of human rights organisations that we host and chair. The ATMG was highly vocal in calling for a new, comprehensive anti-trafficking law, which led to the passing of the UK Modern Slavery Act in 2015.
Campaigning today
Although the Modern Slavery Act was a step in the right direction, it offered too much focus on policing and criminality, and too little on the protection of those who were trafficked, and on preventing exploitation in the first place. As a result, many survivors don't get good support to rebuild their lives. The hostile environment for migrants also means that many of those trapped in modern slavery are not only scared of coming forward, but are often treated as immigration offenders rather than as victims of a serious crime even if they do escape exploitation.
We've been campaigning to change it – to make sure everyone who gets entangled in slavery can be sure of good support and protection if they come forward.
Under the banner of our Protect Not Neglect campaign, we have been calling on the government to put its weight behind a crucial new Modern Slavery (Victim Support) Private Members' Bill. If the Bill is passed, victims of modern slavery will be guaranteed the help they need, including somewhere safe to stay and medical and psychological care.
We also campaign to Lift the Ban, which is pushing for all non-UK survivors of modern slavery who are seeking asylum to be given the right to work, so that they can provide for themselves and their families, and rebuild their lives.
We have also supported a number of legal challenges to improve the support provided to the survivors of slavery. This includes a High Court case that reversed a Home Office decision to cut the rate of subsistence support provided to over 1,000 victims of trafficking. The cuts made it extremely difficult for victims to rebuild their lives, making them more vulnerable to re-trafficking.
We also provided evidence as part of the ATMG in a flagship court case that forced the government to drop the 45-day limit for providing support to survivors, and obliged them to design a system that provided long-term support on a case-by-case basis.
Modern slavery and business
One of the biggest drivers of slavery in the 21st century is consumer demand for cheap, disposable goods. Accordingly, addressing slavery practices in global supply chains has become one of the central pillars of Anti-Slavery's work in recent years.
In the UK, we encourage businesses to go beyond simply complying with the Modern Slavery Act, to developing due diligence practices preventing exploitation in all parts of their supply chains.
Our partnerships have involved working with businesses including ASOS, Whistles and White Company, to review and improve on-the-ground sourcing practices, identify risk areas and take steps to prevent exploitation.