What is child slavery?
Childhood should be a time to grow, learn, play and flourish in safety. But, around 12.3 million children around the world don't have that chance. Instead, they wake up each day trapped in modern slavery.
Some have been forced into back-breaking work in mines, brick kilns, sweatshops and private homes. Others are forced into sexual exploitation, begging or selling drugs. And it happens closer than we would like to think– children in the UK are often just as vulnerable to trafficking or exploitation.
Maya's story

Maya* grew up in a foster family in a typical British town. Aged just 12, she was groomed into sexual exploitation – trafficked all around the region and exploited, even while on a school trip. Her ordeal went undetected for seven years.

*Not her real name
Children, especially children from disadvantaged backgrounds, are particularly vulnerable to slavery as they can be more easily manipulated or tricked than adults. They are easily controlled and unlikely to demand higher wages or better working conditions.
Some are far away from their families, while others have no one to look out for them, or no wider support network to recognise the signs that they are being exploited.
Common forms of slavery of children
Children used by others for profit in prostitution, pornography, or other forms of sexual exploitation
Children forced into begging, petty crime or the drug trade
Forced labour, for example in agriculture, factories, construction, brick kilns, mines, bars, tourist industry or in private homes
Children forced to take part in armed conflicts. This includes not only child soldiers, but also porters or girls taken as 'wives' for soldiers and militia members
Children forced to marry. When a child doesn't consent to a marriage, (or doesn't fully understand consent), is exploited within their marriage, or is not able to leave, that child is in slavery
Child work, child labour, child slavery – what's the difference?
The terms around exploitation of children can be quite confusing so here is a short guide.
Child work. Some types of work make useful, positive contributions to a child's development, helping them learn useful skills. Often, work is also a vital source of income for their families
Child labour. Child labour is not slavery, but nevertheless hinders children's education and development.  Child labour tends to be undertaken when the child is in the care of their parents
Worst forms of child labour."Hazardous work" is the worst form of child labour. It irreversibly damages children's health and development through, for example, exposure to dangerous machinery or toxic substances, and may even endanger their lives
Child slavery. Child slavery is the enforced exploitation of a child for someone else's gain, meaning the child will have no way to leave the situation or person exploiting them
Child trafficking. Trafficking involves transporting, recruiting or harbouring people for the purpose of exploitation, using violence, threats or coercion. When children are trafficked, no violence, deception or coercion needs to be involved, trafficking is merely the act of transporting or harbouring them for exploitative work
What we do
We work with children in many countries worldwide, and every project operates in a different cultural context. However, one common theme applies: we work to secure a long-term future of freedom for children affected by slavery.
We do this by protecting vulnerable children from immediate exploitation and abuse, while ensuring that our work is sustainable in the long term. We strengthen children's resilience by enabling them to defend their rights, and providing them with access to education to help increase their chances of finding decent employment.
In Niger children from families of slave descent can access formal education for the first time thanks to six schools founded by Anti-Slavery
In Nepal, survivors of trafficking receive paralegal training and gain experience at police stations to advocate for other victims when child trafficking is reported
In Senegal, thanks to our work with local communities, young boys have been protected from being forced to beg on the streets and received care from local families
We won't stop until every single child around the world is free from slavery. Today, and every day.
Unlock children's futures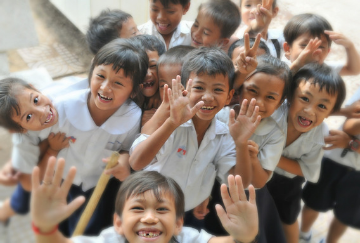 All children should enjoy proper childhood full of play and learning. Help us achieve it today.