27 March 2015
"Big step in the right direction but deficiencies leave us – and victims of modern slavery – wholly unsatisfied"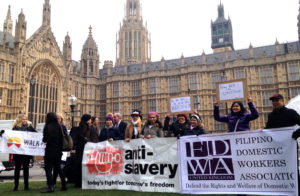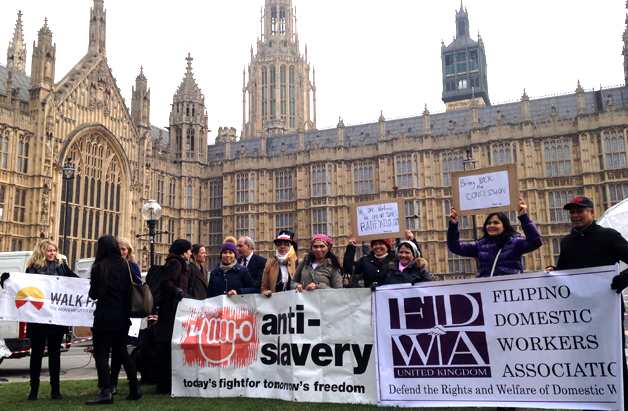 Anti-Slavery's Europe Programme and Advocacy Co-ordinator Klara Skrivankova analyses the Modern Slavery Act

The final version of the Bill which is now the Modern Slavery Act leaves us with mixed feelings. On one hand it is a big step in the right direction with many good clauses but on the other there are still deficiencies that leave us – and victims of modern slavery – wholly unsatisfied.
Anti-Slavery was the first to point out the deficiencies in UK legislation regarding slavery in a report In the Dock  (based on research by the Anti-Trafficking Monitoring Group (ATMG), a coalition of NGOs founded and led by Anti-Slavery since 2010) and we called for a new, comprehensive law to be introduced. Our appeal for improved legislation was adopted by others and prompted the Home Secretary to introduce the draft Modern Slavery Bill at end of 2013.
The draft Bill was rather flawed: it over-emphasised the importance of prosecution and contained no victim provision protection – a key ingredient of any successful anti-slavery legislation.
With the help of a group of legal experts we developed an alternative draft law which became our key advocacy tool we referred to throughout the parliamentary passage of the Bill. Our advocacy efforts, combined with work with partners in strategic coalitions (e.g. ATMG, Transparency in Supply Chains coalition) and reinforced by supporter pressure helped too achieve major shifts in Government positions. On 26 March 2015, Parliament passed an altogether different Bill, a vastly improved one.
From the outset, one of our key criticisms was the lack of focus on the rights of those affected by slavery, to which end we launched our Victim Protection campaign. The inclusion of a victim protection section in the Bill was very important then, with clauses covering victim identification and witness protection measures, although without the minimum standards of protection put on statute.
For the first time the UK now has an Independent Anti-Slavery Commissioner, which Anti-Slavery has advocated for over many years. We initiated changes to the Bill that grant the Commissioner a wider remit, although there are questions over the Commissioner's independence.
Anti-Slavery and its partners also achieved a major breakthrough in relation to protection of children within  the Act including legal advocates for trafficked children to provide them with greater specialised protection and prevent their re-trafficking – a problem that has been all too widespread for a long time.
The issue of protection for overseas domestic workers was a frustrating one. The draft Bill was silent on the plight of hundreds of workers enslaved in households in the UK. But, following sustained pressure and hands-on advocacy in which Anti-Slavery supported Kalayaan and others, a historic vote was taken in the House of Lords which brought back domestic workers' right to leave an abusive employer. Unfortunately, the government remained deaf to our arguments and passed its own amendment requiring domestic workers to receive a positive decision from the National Referral Mechanism confirming they have been trafficked before allowing them to change employers. It is a bad decision that will deter domestic workers who face abuse and exploitation from coming forward to the authorities. On the other hand, it is a major achievement in itself that the Act now contains a specific provision on overseas domestic workers which is a gateway to getting better protection for this vulnerable group of workers in future. The fight on that issue continues.
Another momentous shift in the Government's position was the introduction of the requirement for large companies to annually report on efforts to identify and address modern slavery in their supply chains. We worked with a coalition of NGOs, business and investors to persuade the Government that mandatory, rather than voluntary, disclosure in relation to company supply chains is the way forward.
It is a shame then that a loophole has been identified which allows companies hide their supply chains overseas as long as the goods they produce don't end up in Britain. This, for example, means letting off the hook companies building sites for the FIFA World Cup in Qatar.
Finally, a major shortcoming in the Act is the lack of an extraterritoriality of slavery offence. This means that a British citizen could abuse someone overseas and not be held to account back in UK.
It has been an extremely busy period for Anti-Slavery International. Taking on a historic anti-slavery Bill as it progressed through Parliament and successfully contributing to improved legislation required huge amounts of effort and a solid strategy. Support from Anti-Slavery supporters has been instrumental in achieving this, especially those who joined our Victim Protection campaign and wrote to their MPs raising the issue of protections for domestic workers.
The Bill has now become an Act of Parliament, starting a new chapter of anti-slavery work in the UK will. Legislation alone cannot create change, proper implementation is essential.  Anti-Slavery is committed to ensuring that the Modern Slavery Act is implemented properly and becomes an instrument towards changing the lives of people affected by slavery.