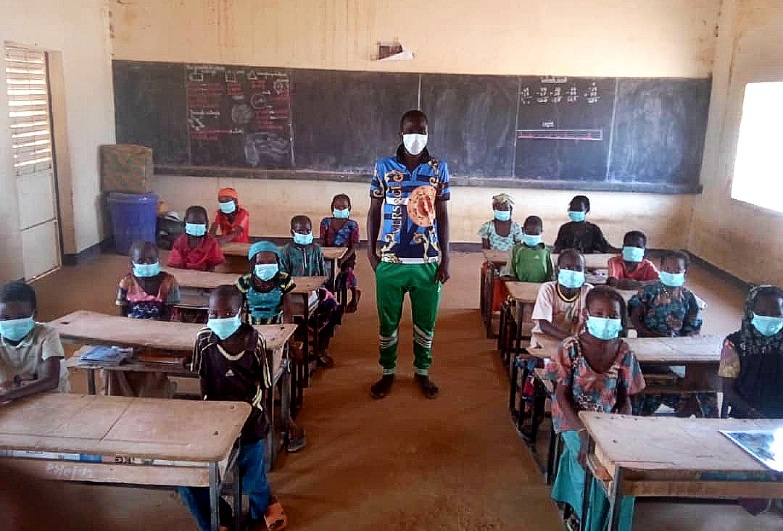 2 November 2020
Our partners, often in extremely difficult and hazardous conditions, have had to transform their long running programmes to become lifelines for some of the world's most vulnerable people – from delivering trafficking prevention education to distributing emergency sanitation and hygiene packs; from supporting communities to gain citizenship to providing cash packages for migrant workers left destitute as jobs dry up and borders close.
Nepal
When countries across Asia and the Middle East began to lock down, Nepal's migrant workers were forced out of jobs and returned home. There was a massive influx into the already extremely poor and marginalised Haliya community (until recently a regularly enslaved ethnic group) in western Nepal and this led to enormous pressure as households had one more mouth to feed and no remittance income. As a consequence, our partner Nepal National Dalit Social Welfare Organisation (NNDSWO) has been providing emergency humanitarian support, including food supplies and soap, to 1,710 households in five regions in western Nepal.
Niger
More than 50 staff from our partner Timidria were trained in protecting against Covid-19 and have distributed food and soap to 360 households, set up handwashing stations in three civic education centres and nine schools, and are conducting weekly deliveries of clean water to nine communities. They also created posters and other visual aids to communicate with mostly illiterate communities and held awareness-raising caravans on coronavirus which reached over 1,500 people, and broadcast 10 radio programmes in four languages. To date, there are no reported cases of Covid-19 in any of our project communities.
Senegal
In Senegal, we work to halt the practice of Quranic schools sending children onto the streets to beg. Our partner RADDHO has been supporting the implementation of the government's emergency child protection coronavirus plan, 'Zero Children in the  Street'. The first phase of this plan (carried out from April to June 2020) resulted in the return of nearly 3,000 street children, including forced beggars from Quranic schools, to families in Senegal and across the region. RADDHO has broadcast more than 70 radio shows this year, focusing on the protection of children in relation to Covid-19 and the roles of government and Quranic teachers in safeguarding children. Emergency food provisions were delivered by our partner Tostan to adoptive mothers of Quranic school pupils. Health and hygiene kits were distributed across the 130 Quranic schools supported by the project. Additionally, Tostan developed Covid-19 leaflets in seven national languages.