We believe that people involved in the production of the goods we buy on a daily basis should be treated with respect and dignity.
Sadly, slavery and exploitation affects products around the world. From children mining the cobalt used in our mobile phones, to the people trapped in debt bondage to pick the tea leaves sold in our supermarkets, to Uyghur Muslims in China forced to pick cotton to supply many of the biggest global brands, slavery taints many of the products we use in our daily lives.
Addressing slavery practices in global supply chains is one of the central pillars of Anti-Slavery's work, and for over 20 years we have campaigned to bring responsible business practices into the global agenda.
Working with business
We work directly with companies to help them identify the risks of slavery practices in their supply chains, and devise effective responses to address them.
We stand as a  'critical friend', to encourage businesses in the UK to go beyond compliance with the Modern Slavery Act and improve on-the-ground sourcing practices, identifying risk areas and taking steps to prevent exploitation.
We can help you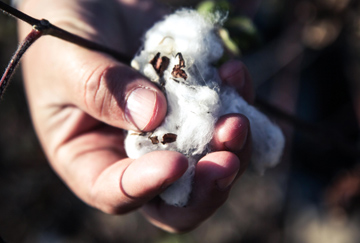 We work with businesses to help them address risks of slavery in their supply chains.
We have teamed up with leading online fashion retailer ASOS and other partners on a large-scale, industry-leading project to help prevent the exploitation of migrant workers travelling from Bangladesh and Madagascar to work in the garment industry in Mauritius.
Together with our partners from Cotton Campaign coalition, we also work to mobilise businesses to stop knowingly using cotton from Uzbekistan and Turkmenistan, which is tainted by state-organised forced labour. Already over 300 brands have signed the so-called Cotton Pledge.
Campaigning for better laws
We recognise that current laws, including the UK Modern Slavery Act, are not enough to end slavery abuses in global supply chains.
Decades of voluntary "corporate social responsibility" initiatives have so far failed to protect people across the world from modern slavery. Responsible businesses are often undermined by competitors who adopt exploitative labour practices.
Which is why we campaign for national and international laws that would make businesses legally responsible for preventing human rights abuses in their supply chains and provide access to justice for victims.
We work closely with like-minded organisations and trade unions to campaign for such laws in the UK, and in the European Union we have built a coalition of over 100 organisations from around the world to support our campaign calling for an EU wide legislation. We also work with research partners to understand the potential impact of legal frameworks that are intended to better protect people and planet.
We won't stop until we make sure that people are not exploited in the production of goods sold and used across the world.