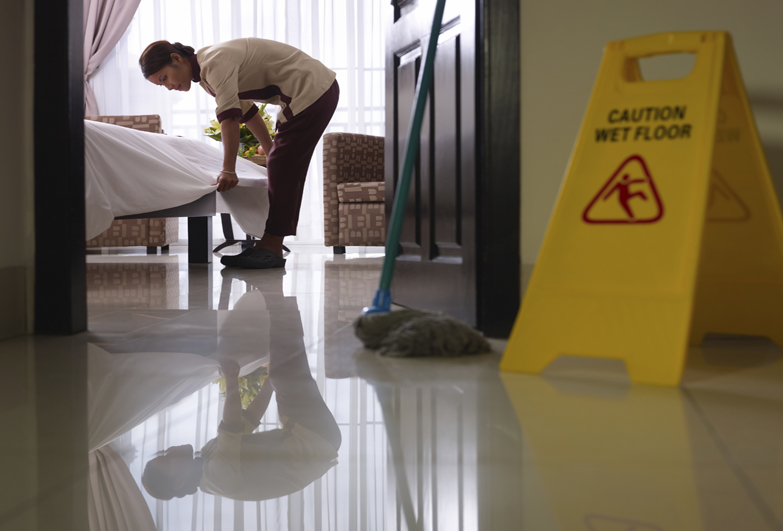 Staff Wanted Initiative
Hospitality is the UK's fifth largest industry and directly employs more than two million people. Hotels and the hospitality industry are often affected by exploitation of workers, sometimes including slavery. A significant proportion of the industry's workforce are low-skilled migrant workers, who are particularly vulnerable to various forms of abuse.
The widespread practice of employing staff through external recruitment agencies often means that hotel management are unaware of exploitation of cleaners, porters or security staff in their own hotels. To tackle these practices, together with the Institute for Human Rights and Business we have set up the Staff Wanted Initiative.
The Staff Wanted Initiative works to raise awareness of exploitative practices, and to improve the recruitment and employment of staff in the UK hospitality industry.
We work with hotels and industry organisations to help identify practices that can allow exploitation of workers in the sector, and as a consequence, bring reputational and legal risk for businesses. Our project includes working with individual hotels and larger chains, trade bodies, recruitment agencies, service agencies, trade unions, the Metropolitan Police, and wider civil society.
SEE Formula to prevent exploitation and slavery in hospitality industry
We encourage hotels to take steps needed to prevent abusive practices and follow our special SEE formula to help them address the challenge.
The SEE Formula: Scrutinise – Engage – Ensure
The SEE Formula is a set of simple guidelines for addressing the challenges confronting the hospitality sector. It raises awareness of key issues of worker exploitation within the sector, offers a lens to view the activities and pricing structures of agencies providing labour, and provides simple checks for hotel managers to prevent exploitative practices.
Scrutinise and monitor relationships with staff and recruitment agencies. Records, business agreements, contracts and payments can reveal valuable information about possible exploitation. A few additional checks can help ensure a hotel operates as a responsible employer or user of agency staff.
Engage with workforce. Talking formally and informally with staff can uncover whether there are any issues around potential exploitation that a hotel should investigate further.
Ensure to provide a fit and proper workplace. Clear operational procedures can help protect staff and supervisors when dealing with agency workers. They can help ensure that problems either do not occur or can be quickly identified and addressed.
Find more information and resources on our dedicated Staff Wanted Initiative website.
We produced a simple poster for display in hotel staff rooms. In five simple questions in ten languages, the poster helps workers understand their rights and provides information how to seek further help. Recently we distributed them to 630 hotels in the London area.
Download the poster for hotel workers and the SEE Formula in printable PDF format: