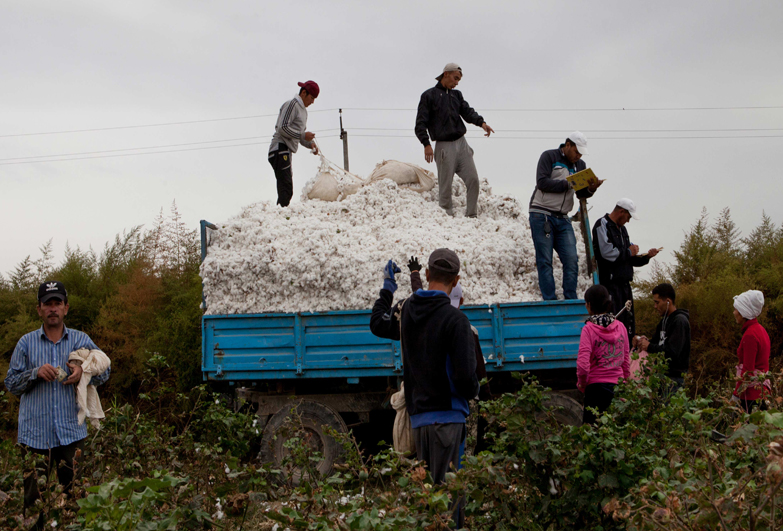 Global supply chains can be extremely complex and being absolutely sure that any particular supply chains is not affected by forced labour is very hard, if not close to impossible. However, that doesn't relieve businesses from responsibility of making a real effort to ensure that the risks of forced labour in their supply chains are minimised.
Under the UN Guiding Principles on Business and Human Rights, businesses have the duty to respect human rights. When it comes to grave violations like slavery, the duty goes beyond.
If a risk of slavery is identified within a supply chain, businesses need to act to resolve the situation and prevent it from occurring in future. The risk here is more than just human suffering and brand reputation – no law abiding business can condone serious crimes, such as forced labour and human trafficking, within their business operation.
While industries such as agriculture, fishing or garment production are most commonly cited as those where the risk is the greatest, no industry or a company can safely say that their supply chains are slavery free, wherever in the world they operate.
Recent legislation, such as the California Transparency in Supply Chains Act, the U.K. Modern Slavery Act 2015 and the amendment to the US Tariff Act in February 2016, reflect that slavery is a serious issue in supply chains.
Transparency and open acknowledgement by businesses that these challenges exist in their supply chains is becoming a benchmark of leadership. First step to achieving this is working with others to reach greater visibility along supply chains and address the salient human rights risks to those working within these chains or affected by a company's operations.
Working with others – including with civil society organizations – should be fundamental to the business model of any modern, responsible business.
How can monitoring mechanisms be improved?
Audits are the main monitoring mechanism for most companies. However they have limitations. The quality and scope of auditing may be questionable, or there may be practical difficulties such as auditors being unable to speak with workers in their own language. However, even when auditing is of high quality, audits by necessity are merely a snapshot of a particular moment in a particular part of the production system. The auditing mindset tends to be linear and mechanistic and may compartmentalise symptoms, preventing observers from seeing the whole complex picture which might together constitute forced labour.
Forced labour is often hidden. For example, it is often found in the informal sector, in the early stages of production, often some steps down the supply chain. Alternatively it might be a result of recruitment practices, particularly where a company relies upon a number of agents to provide workers. Subcontracting can also hide forced labour as it adds layers between the company and the worker. These areas are out of the scope of many audits.
Rather than focusing solely on auditing, compliance and penalties, companies should work with their suppliers and take a genuine approach to partnership, for example making it clear that suppliers understand that they will not be dropped if forced labour is identified at their sites, but rather that the company will work with them to build their skills in identifying and addressing forced labour.
Remediation is too often a one-off solution – lasting change comes from suppliers who are empowered to act in a way that considers the business pressures they face. For example, how will they meet any costs incurred in eradicating forced labour? How can they change their recruitment practices to meet their needs but ensure that there is no debt bondage?
A good starting point is to acknowledge the existence of vulnerable workers in supply chains and increase vigilance of monitoring accordingly. This list is not exhaustive.
Migrants: particularly, but not exclusively, those who are reliant on their employer for leave to remain but also internal migrants. Also workers not directly recruited by the labour user but by an agent.
Minorities: including indigenous groups, and those that may be discriminated against (for example Dalits in India, many of whom are in bonded labour).
Illiterate labourers: who may not be able to read about their rights or check the accuracy of their payslips.
Homeworkers: who often work outside the formal system and its safety measures and can therefore be vulnerable to exploitation.
Temporary workers: those on temporary contracts who find it difficult to get union representation.
Poor workers: more broadly, those who are low-paid and therefore more vulnerable to exploitation.
Women: women tend to be more prone to poverty, likely to be less educated, and therefore more vulnerable.
All workers need to know their rights, not just management. Consider illiterate workers, those who speak different languages, whether workers have the opportunity to read the notice board etc. It is essential that auditors speak to workers, as they are key to ensuring that positive change in labour practices is sustainable.
Make both auditors and your commercial buying and supplier development teams aware of "red flags" and encourage them to raise concerns. Having considered who the vulnerable workers in your supply chain are, "red flags" might include:
Excessive overtime
Migrant workers who paid a fee and may be at risk of debt bondage
Workers paid cash in hand, no clear record of hours worked or pay rate
Lack of grievance mechanisms
Absence of unions
Workers dependent on employer or agent for basic living needs
Workers living and working in poor conditions
Prison labour used in the production of goods
Companies should consider linking up with local partners for example non-governmental organisations (NGOs), unions and local government to improve their understanding of the local context and particular practices or vulnerable workers that should be carefully checked. NGOs can help both identify and remediate.
With a growing demand for an increasingly flexible workforce, the risk that workers are tied into debt bondage through unscrupulous agents will only increase. It is therefore important that companies carefully monitor how workers are recruited.
Consider, also, linking up with other retailers or other sectors in the same supply chain to develop a cohesive approach to resolving issues such as forced labour.
Companies have a particular role in joining efforts with other relevant actors to eradicate forced labour. It is important that the private sector does not take the lack of reported forced labour for granted, but rather to ensure that monitoring mechanisms are sufficiently developed to identify forced labour where it does occur.