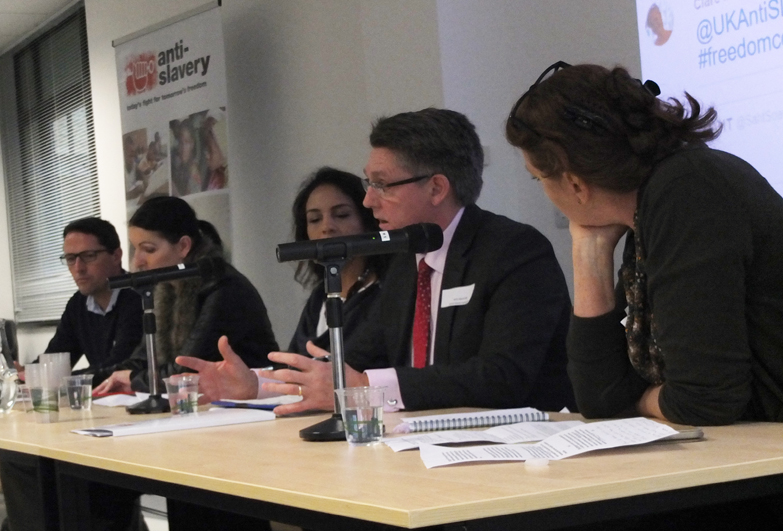 Anti-Slavery International hosts and chairs the Anti-Trafficking Monitoring Group (ATMG), a coalition established in 2009 to monitor the UK's implementation of European anti-trafficking legislation. The group examines all types of human trafficking, including internal trafficking and the trafficking of British nationals.
The Group operates according to a human rights-based approach to protect the well-being and best interests of victims of human trafficking. It comprises thirteen leading UK-based anti-trafficking organisations: AFRUCA, Amnesty International UK, Anti-Slavery International, Ashiana Sheffield, Bawso, ECPAT UK, Focus on Labour Exploitation (FLEX), Helen Bamber Foundation, Kalayaan, Law Centre (NI), the Snowdrop Project, the TARA service and UNICEF UK. It also works closely with the Human Trafficking Foundation.
The Anti-Trafficking Monitoring Group plays a crucial part in our advocacy to improve the anti-slavery response of the UK Government.
The group has published reports and briefing papers on human trafficking in the UK, focusing on the three 'Ps'; prevention, protection and prosecution. The research findings form the basis of the coalition's advocacy for improvements in the UK's response to trafficking and other forms of modern slavery.

The coalition also played a key part in advocating to improve the Modern Slavery Act. It developed an 'Alternative' Modern Slavery Bill to assist parliamentarians in the legislative scrutiny process. The alternative Bill was then used to support MPs and members of the House in drafting amendments to the legislation.
Since the Modern Slavery Act has entered into force, the ATMG has monitored its implementation and continues to advocate for improvements in the UK's anti-slavery policies.
The latest report entitled 'Before the Harm is Done' analyses action taken in the UK since 2012, relating to the prevention of human trafficking. The report assesses the extent to which it
contributes to the UK's implementation of the 2005 Council of Europe Trafficking Convention and the EU Trafficking Directive requirements.
Download the report in a PDF format: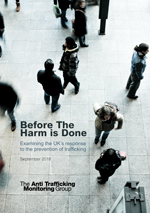 Members of the Anti-Trafficking Monitoring Group
Learn more about slavery
Subscribe to our emails to hear latest news about modern slavery, our work against it around the world, and different ways you can take action. You can unsubscribe whenever you want.