Our new patron will present the BBC Radio 4 Appeal on behalf of Anti-Slavery on 5 November.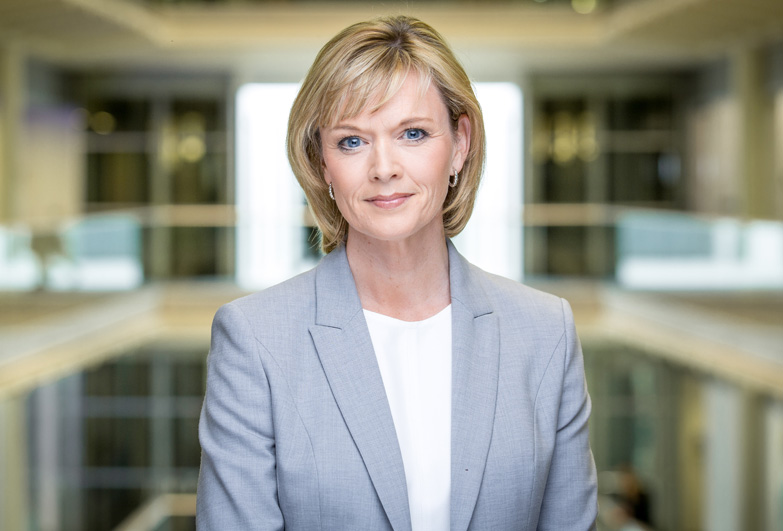 27 September 2017
Anti-Slavery is delighted to announce that Julie Etchingham, television anchor and journalist with ITV News, has become a patron of Anti-Slavery International to help end modern day slavery.
"I'm delighted to be invited to support the work of Anti-Slavery International, to help shine a light on a 21st century scandal which shames society", said Julie.
A graduate from Newnham College at the University of Cambridge, Julie is currently co-presenting ITV news and current affairs, and has previous experience working for the BBC and Sky News.
She is known for chairing televised leaders' debates ahead of UK general elections and the Brexit referendum, and was the first woman to host a UK election night programme.
She has covered many of major news stories of recent years, including the Asian Tsunami and Japanese Earthquake, the Royal Wedding and the election of Barack Obama. She has interviewed the past four Prime Ministers, as well as Hillary Clinton, Condoleeza Rice and Aung San Suu Kyi. She was also the first woman to win the Royal Television Society Presenter of the Year award.
Julie is passionate about raising awareness of human trafficking and bringing to light the women's personal stories through her work in the media. She also moderates conferences on human trafficking in the UK and abroad. Her coverage of modern slavery issues includes "Britain's Secret Slaves", a documentary on slavery in Britain, a series of special reports on trafficking in Nigeria, and a harrowing story of Vietnamese girls trafficked into sexual exploitation to China, France and Britain .
"Once you have heard the voices of the victims of modern slavery: men, women and children – whether here at home or abroad – their stories never leave you", said Julie.
Chair of Trustees, Tanya English, welcomed the new patron: "We are delighted to have Julie on board as a patron. She brings admirable passion, intelligence and courage to our vital work combatting modern day slavery and we look forward to working closely with her in the future".
One of Julie's first contributions as patron will be to present the BBC Radio 4 Appeal on behalf of Anti-Slavery on Sunday 5 November at 07:55 and 21:25 and again on Thursday 9 November at 15:25. The appeal will focus on unlocking the future of child domestic workers in Tanzania.
You can also listen to the recording of Julie about her passion to fight modern slavery: