15 September 2015
Ganga Sekhar, Volunteers for Social Justice, Punjab, India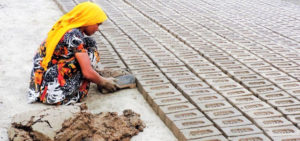 A woman moulding bricks is Pather. Her day started at 5am and isn't likely to end before 8pm. Not a toilet in sight, she has to sneak into the fields near by without the farmers noticing to answer the call of nature.
With no labour records, her labour is neither recognised nor valued. Nearest access to clean drinking water is eight kilometres away. A member of her family has to cycle the distance to quench their thirst. She is never paid any wages. Since wages in brick factories are on piece-rate basis, the male head of her family will be paid for the entire family's labour. That is if the "advance" obtained by them at the beginning of the season is satisfied.
Or else, she has to pledge her labour till the debt advance is paid off. No leave. No weekly rest. No maternity benefits. Her child will probably grow up amid dust and smoke surrounded by nothing but endless rows of raw dull brown bricks.
This is probably the story behind every building or structure we call home, office or a place of worship – built with the bricks tainted with bonded labour – a contemporary form of slavery.
Brick Kiln industry in India probably employs the largest unpaid women work force in the world. Not underpaid but unpaid altogether.
This was the starting point of the brick kiln program of Volunteers for Social Justice for eradicating bonded labour in India's brick kiln industry supported by Anti-Slavery International. Today, a large number of women have been rescued from bondage in the brick kiln industry.
The women with her child in her arms in the picture below is Pooja. Her husband standing next to her escaped from his brick kiln to seek the release of his family from debt bondage. Having just given birth, Pooja was ill and so was their newly born baby. A debt prevented them from leaving the employment while the health of the mother and child deteriorated.
VSJ managed to secure the family's release though the intervention of the National Human Rights Commission. After their release from bondage, Pooja and her family lived at the Transit Rehabilitation Centre of VSJ.
While she and her child recuperated, VSJ team had the chance to talk to her, find out about her hopes and aspirations post release and she too had an opportunity to watch us closely as she sat with the VSJ team watched us in action at the office – talking to brick kiln workers, raising awareness, the never ending discussion on the problems afflicting brick kiln workers, drafting complaints, running about from inquiry to inquiry releasing bonded labourers.
A few months later, as she had started her new life of freedom, it transpired that Pooja has the qualities to lead women in the brick kilns to demand their rights. She contacted us and expressed interest to become a community leader to secure the rights of women like her.
With support and leadership of women like her, we are confident that women's voices in the brick kiln industry will be heard, addressed and finally achieve the objective of our work – women as empowered workers enjoying full and equal rights.
This blog was first published on the Community Life Competence website.