30 July 2014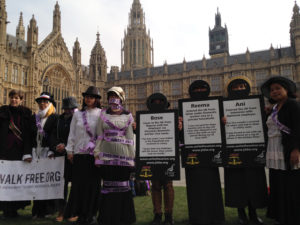 Trafficked people have the right to recover damages from their traffickers irrespective of their immigration status, Supreme Court ruled after intervention from Anti-Slavery International.
In a landmark judgment on the first ever modern slavery case heard by the Supreme Court, the Court unanimously ruled that trafficked people have a right to claim damages from their traffickers irrespective of their immigration status.
Anti-Slavery International, who were represented by their solicitors, Public Interest Lawyers, intervened in the Supreme Court case to seek to change the common law defence of illegality so that victims of trafficking could bring a claim against their traffickers irrespective of their immigration status.
The Court ruled that employers guilty of trafficking should not be able to defend their actions on the basis that the people they exploit are in the UK illegally, using the so called 'defence of illegality'. The court ruled that, were it to uphold the defence of illegality, it would run  contrary to both the UK's international law obligations with respect to trafficking, as well as existing public policy in the field of trafficking.
The case concerned a girl who as a child was trafficked into the UK and exploited as a domestic worker. She had been deceived into agreeing to this employment as her employer told her that she would be paid £50 per month and sent to school.
The Appellant's claim for damages against her former employers was earlier dismissed by the Court of Appeal on the basis that her employment was illegal, and that she had known and consented to that illegality. The Supreme Court ruled today that the defence of illegality could not be used by traffickers to shield themselves from any liability to the victims of their trafficking.
Anti-Slavery International, the world's oldest human rights organisation, intervened in this case to draw the attention of the Supreme Court to the UK's obligations towards trafficked victims. It also identified that the public policies seeking to deter and punish traffickers risked being undermined if, by the application of the 'illegality doctrine', traffickers were able to avoid paying compensation to their victims.
A majority of the Court's judges accepted Anti-Slavery International's submissions and held that the application of the illegality defence risked encouraging traffickers to enter into illegal contracts of employment with their workers as it 'might engender a belief' in such employers that they could discriminate against their exploited employees with impunity.
Aidan McQuade, director of Anti-Slavery International said:
'We are happy that the court recognised that trafficked people have the right to claim damages from their traffickers even if their status in the UK is irregular.
'The court emphasised that the UK needs to honour its obligations under international law and protect the rights of victims of trafficking irrespective of their immigration status.
'This has been a problem for a long time and the UK authorities continue to treat non-UK and non-EU victims differently. This judgment sends a signal that people need to change the approach to this issue. If someone is coerced or forced into an illegal employment, they are victims of crime and their rights should be protected.'
'Anti-Slavery is very privileged to have been given a permission to intervene and provide expertise in this historic case. The court has listened to our submissions and expertise which has led to the altering today of a long-standing common law doctrine.'
Paul Heron, a solicitor at Public Interest Lawyers, said today:
'We are delighted that the Supreme Court has held today that the defence of illegality does not bar the appellant's claim against her traffickers. Whilst she did enter the UK illegally, she did so as a result of being trafficked here as a child.
'It is only just, then, that she should not be barred from bringing an action to recover damages against the very people who were responsible for her trafficking.'
Anti-Slavery International's legal costs for this important case were funded from the Princess Diana Trust and the organisation was represented by its solicitor, Public Interest Lawyers and barristers at Garden Court Chambers (Kathryn Cronin, Ronan Toal, Michelle Brewer and  Jan Luba QC). Public Interest Lawyers representation of Anti-Slavery International was funded by the Strategic Legal Fund.
Note to editors:
Please note that the Appellant in this case requests that there be no reporting of any details that could identify her or her former employers, even though they have already been used in the public domain in the past. We hope that the media and any other organisation that reports on this case can respect her wishes.
For any media queries please contact:
1.      Anti-Slavery Press Officer Jakub Sobik on 0207 501 8934, mobile 07912 145 610 or on j.sobik@antislavery.org; or
2.      Adriana Edmeades at Public Interest Lawyers on 0121 515 5069 or adriana.edmeades@publicinterestlawyers.co.uk