At Anti-Slavery, we believe that all children should have the tools and support they need to protect themselves from being exploited and succeed in life. That's why we're standing alongside women and girls in Nepal through our project.
We see women with stories of great resilience, strength and courage. Alisha is one of them.
"I come from a very poor family. My father is a tailor and he would farm other people's land, but it was hard to manage with just one person earning money.
"I went to a government school and passed my school leavers exam with top grades. I wanted to do more studying, but my family couldn't afford it. My father asked me to forget about my hopes for further study and stay at home.
"I met someone who said they knew a family in Kathmandu who were looking for help. She said I could go and work for them and study at the same time. So, I went to Kathmandu and began to work in that house and study at the local college. I was 16 years old.
"Everything was okay at first, and then the wife who lived there began to complain about everything I did. She scolded and beat me.
"Every day I would get up at 5am and clean the whole house. Then I could go to college for a few hours before coming back and doing all the cleaning and washing until 8pm. I never got time off on weekends.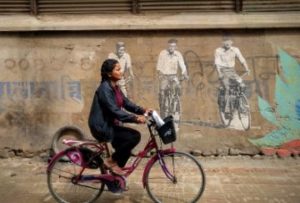 Nepal Paralegals Project
Read more about the program we support to address exploitation in Nepal.
"One day the wife pulled my hair badly and attacked me for not polishing her husband's shoes. I felt so humiliated and I cried a lot that day.
"From then on, I was beaten and humiliated every day. I was only allowed to eat the leftovers of the owners' food. There was a lot of space in the house, but I had to sleep in a small place under the stairs.
"I stayed there for four years. I was scared to leave. If I had returned to my village, my family could not have afforded to look after me, but I was determined to get an education."
"I was scared to leave. If I had returned to my village, my family could not have afforded to look after me, but I was determined to get an education."
Anti-Slavery International, together with its local partners SASANE, runs a special programme for girls and women personally affected by trafficking to train them to become paralegals and organise placements in police stations. This allows the young women not only to build up their skills and confidence, but also helps them to improve the police's response to other trafficking cases.
The programme has been life-changing for many of the women, who became change-makers for other trafficking victims.
"Now I'm in my third year of a humanities degree. My family is very happy and proud that their daughter has achieved this.
"When I was in that house, I couldn't defend myself. I was not aware that my rights were being violated. Now I have the confidence to speak up against what is wrong."
*Name and image changed
Learn more about modern slavery
Subscribe to our emails to hear the latest news about modern slavery, our work against it around the world, and different ways you can take action. You can unsubscribe whenever you want.