25 April 2022
Kimberley – policy and monitoring assistant at Anti-Slavery International and co-author of our most recent report "One day at a time" – talks about the hostile environment created for survivors of modern slavery.
Today, the Anti-Trafficking Monitoring Group and Anti-Slavery International launch the first report looking at the experience of the Recovery Needs Assessment (RNA) process. The new report entitled "One day at a time" charters the first-hand experiences of, not only those on the receiving end of support, but also the experiences of Modern Slavery Victim Care Contract (MSVCC) support providers, along with, support workers outside of the MSVCC, many of whom are often called upon to assist with support. The report provides a picture into what the RNA process is like for the survivors within it, and those providing crucial support along the way.
Figure 1: Signposting
What does the report cover?
The report highlights disconcerting accounts from those experiencing the RNA, adding to the headlines that often circulate around the fact that the Home Office has created a "hostile environment" for those that are in urgent need and whom the UK government is duty bound to protect and support.
It is important to point out that the victims and survivors that have been included in this study have already received a positive Conclusive Grounds Decision. This means that they are confirmed victims of modern slavery and human trafficking. There is no argument here that these are survivors "abusing the system" or that anyone requesting support is being disingenuous about their needs. It is also important to point out that the asylum and immigration system was out with the scope of this report, and so the findings apply to both nationally and internationally trafficked survivors.
Despite the confirmed status, it was clear from support providers that instead of ensuring support was being met, this status is nothing more than a fast-track passport out of the system. Not only does the RNA restrict support to only identified and evidenced 'current needs' arising from the trafficking experience, but once people receive their conclusive grounds decision, they are passed from one RNA process to the next.
Figure 2: Caring for children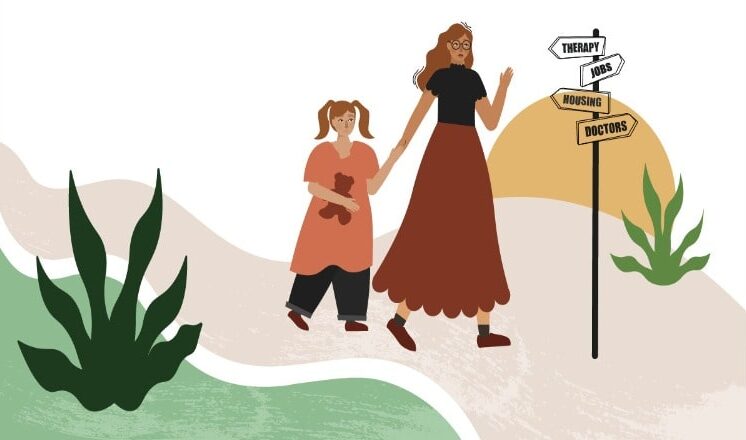 What does the report find?
The report highlighted a range of key concerns faced by survivors:
Every survivor said that they had, at times, been destitute. By failing to provide for basic needs, the RNA leaves survivors vulnerable to the cost of living, increases debt, and hinders recovery, all things that can heighten the risk of being re-trafficked.
The needs of children are not met. Support is generally denied for children of trafficking victims, meaning that survivors have no option but to bring their children to appointments that can be triggering and distressing.
The RNA is exceptionally complex, inefficient and unclear. Most survivors reported having to make very important, impactful decisions with little understanding of their consequences.
There is inadequate guidance and inconsistent training. Training varies across organisations, leading to varying opinions and decisions and inconsistent levels of support.
The RNA is not trauma-informed or person-centred. There was a stark lack of consultation with survivors and the anti-trafficking sector in the development of the RNA. The UK is failing to uphold the Trauma-Informed Code of Conduct (TiCC), which it has endorsed. One of the many major concerns highlighted in the report is that all the survivors had reported having been at some point completely destitute and many had suffered homelessness. Yet, the first pillar of support to be withdrawn was financial support. Countless studies have shown that poverty is a key driving factor to being exploited, and, with survivors also stating that they found the RNA process to be repetitive and invasive, there is a real concern that those within the RNA are facing a heightened risk of being re-trafficked.
Figure 3: Tackling bureaucracy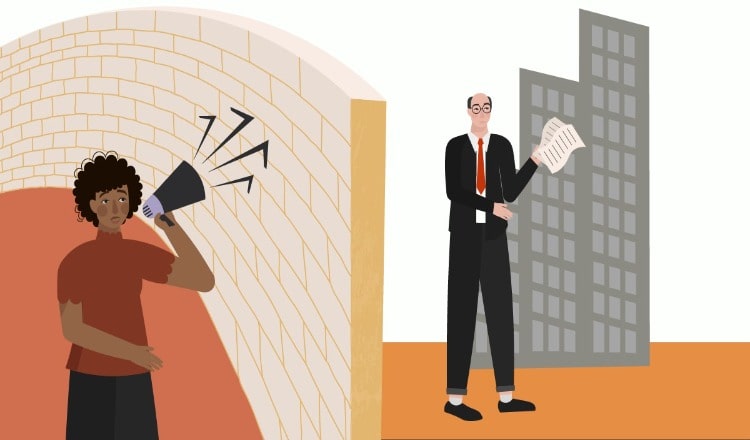 One survivor reported how she felt so utterly humiliated at having to ask for sanitary products and then had to endure the further humiliation of being refused, this survivor had no access to any financial income at all. So, it doesn't come as a surprise when another incredibly brave survivor, very openly and honestly admits that they felt that they had no other option than to remain in contact with their trafficker, because their trafficker may be their only means of support.
This very real risk could quite easily have been prevented by having implemented and by maintaining an inclusively informed systemic structure which listens to the voices of all the parties that are experiencing the RNA first hand. Sadly, this didn't happen prior to the implementation of the RNA policy itself. And, by failing to do so, the RNA process has become a harmful, and dare I say it, "a hostile environment" for survivors of modern slavery and human trafficking.
Read the report: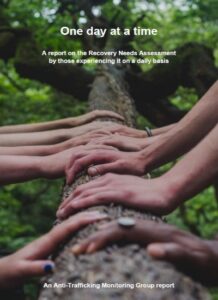 Download a copy of the full report here.
Also available: