Blog by Siobhan Mahoney, Anti-Slavery International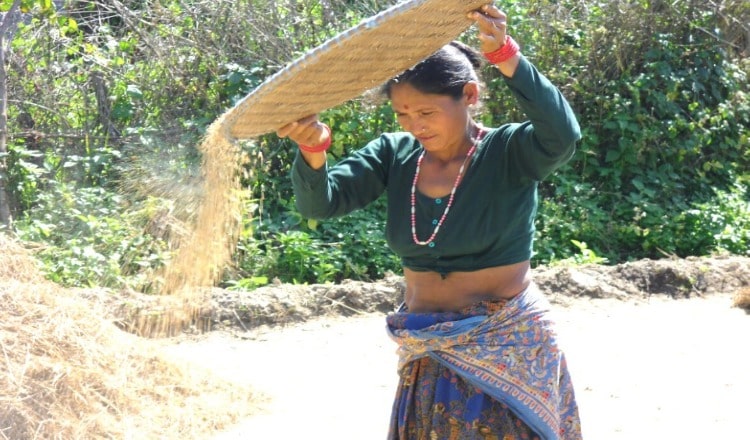 2 December 2020
Covid-19 has presented huge challenges for everyone, as it changed lives and livelihoods worldwide. For victims of modern slavery, the effects have been especially severe: as we wrote back in June, the pandemic has had five major effects on people who are enslaved or vulnerable to slavery, including worsening discrimination, increasing vulnerability to slavery and the interruption of anti-slavery efforts.
As the effects of the pandemic were becoming known, UK Aid Direct (funded by the UK Foreign, Commonwealth and Development Office) invited organisations, including Anti-Slavery International, to apply for rapid response grants and supplement efforts to pivot activities to directly address the impact of Covid-19. We were successful in securing additional support to our project in Nepal, where we are helping to tackle bonded labour practices affecting the Haliya community.
The Haliya are among the world's most vulnerable people. Covid-19 presented this community with further challenges. Our UK Aid Direct funding helped us to take action to protect people by:
Distributing emergency food and soap to a further 1,550 Haliya households – this is in addition to the 2,755 households we have already supported;
Distributing 10,000 leaflets to Haliya settlements, giving people critical information about Covid-19 and the support available to them;
Directly supporting seven women's groups, comprising 105 women overall, including micro-financing to support collective livelihood initiatives;
Providing business and short vocational training to 100 Haliya people, as well as giving some business start-up supplies;
Supporting 600 Haliya children's education by providing stationery, books and tuition fees; and
Collecting data to better understand the impact Covid-19 has had on the Haliya community.
It's important to note that this Covid-19 work is all in addition to our existing Haliya programme in Nepal, and in response to what we hope is a once-in-a-lifetime challenge to global efforts to fight modern slavery. We are immensely grateful to UK Aid Direct for helping us to make a big difference in many people's lives – and we know that people we have been able to help as a result would wish to offer their thanks too.
Even as we read optimistic headlines about a possible end to the pandemic, our work in Nepal is not over. We owe it to the Haliya community to continue to support them, because their struggle does not end with Covid-19. We hope we can count on your support to continue this essential work – find out how you can help here.
UK Aid Direct supports civil society organisations working in UK Government priority countries, and the 50 lowest countries in the Human Development Index, where support for achieving the Global Goals for Sustainable Development is most needed.