Dr Chris O'Connell is researching the link between climate change, migration and exploitation of vulnerable people in Peru and Bolivia.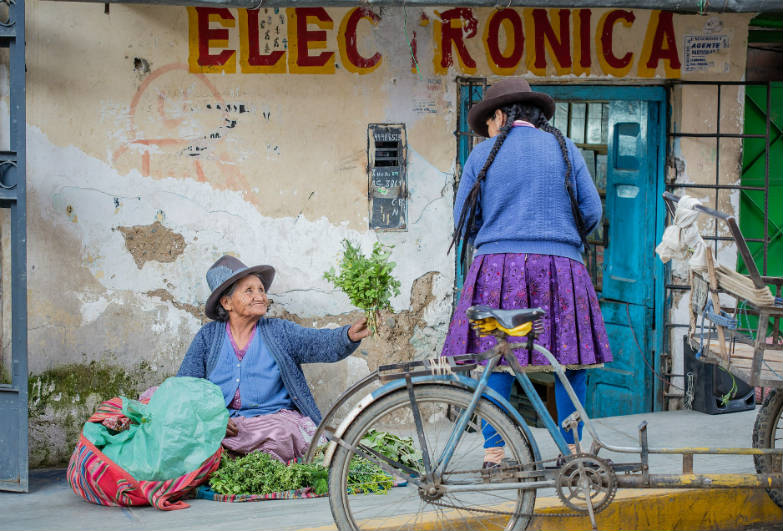 14 June 2019
Modern slavery is an increasingly important global issue. According to the International Labour Organization, over 40 million people are subjected to various forms of exploitation including forced labour, debt bondage, sexual exploitation and forced marriage.  Modern slavery poses a particular risk to those moving to new and unfamiliar places, even inside their own country. Experts are more convinced than ever that climate change is rapidly becoming the biggest driver of forced migration. This in turn is leading to greater numbers of people becoming vulnerable to contemporary forms of slavery.
Climate change is no longer a future issue, but is disrupting livelihoods right now. For example, the effects of climate change on water supplies has gravely worsened the impact of the conflict in Yemen, resulting in an estimated 55,000 deaths. In Bangladesh, the World Bank has warned that the number of people displaced by climate change could reach 13.3 million by 2050. There is increasing evidence that climate change is helping to fuel the spike in the number of Central American migrants seeking to enter the US. In 2018 Australia experienced its worst drought in living memory, and disputes over climate policy have seen three prime ministers ousted in the past ten years.
The relationship between climate-driven migration on the one hand, and human trafficking on the other, was brought to public attention by Pope Francis in his 2015 'Laudato Si' encyclical, and subsequently substantiated by, among others, the International Organization for Migration. That report revealed that both sudden- and slow-onset climate disasters led to increased risks of trafficking, and highlighted the role of the state in reducing those risks.
Research undertaken by Dr Chris O'Connell examines climate change and contemporary forms of slavery in the context of Peru and Bolivia, two countries that are already experiencing climate disruption. The growth in climate-fuelled migration in both countries is leading to increased risks of trafficking and slavery. Indeed the links between climate change, migration and increased risks of human trafficking have already been highlighted by CHS Alternativo, a Peru-based NGO.
In Peru, over one-third of the country's glaciers have melted since the 1970s, causing both floods and water scarcity, and rendering the lives of rural peasants highly precarious. Residents of the Nor Yauyos-Cochas Reserve of central Peru have experienced significant impact to their way of life after the Wacra glacier melted, forcing farming onto the lower levels of the mountain and placing strain on the available farmland. Many Peruvians, particularly young people, have been driven to migrate to city areas to find work, placing them at increased risk of exploitation and leaving a deficit in the rural workforce. This situation has resulted in a landmark legal case where a Peruvian farmer has sued Europe's largest carbon emitter, German energy company RWE, for its contribution to climate change.
In Bolivia climate change contributed to the disappearance of the country's second-largest lake in 2015. The progressive impact from climate change has been experienced in the area around Lake Poopo for a number of years, with the indigenous Urus-Muratos people increasingly forced to rely on farming, a practice which is also affected by climate change. When Lake Poopo dried up it brought to an end the traditional fishing activities of the Urus-Muratos, forcing at least half of the local population to migrate in search of work. In 2016 Bolivia's worst drought in a generation led the government to declare a state of emergency as hundreds of thousands were forced to ration water in the cities of La Paz and El Alto.
This research asks whether and to what extent the state matters in coming up with effective responses to these challenges. Researchers have recently begun to focus on the nexus between climate change and modern slavery, but so far there has been little focus on the role of the state. This project considers in particular the influence of each country's political and economic model on the nature and extent of their responses to these twin threats.
Researcher
Chris O'Connell is a Postdoctoral CAROLINE Fellow seconded to Anti-Slavery International in London from Dublin City University. His current research focuses on the relationship between climate change and contemporary forms of slavery in Peru and Bolivia. Chris's research interests centre on alterative and sustainable models of development, and their political realisation. Chris holds a PhD in Political Science from Dublin City University, where he analysed civil society influence on the policy outputs of left-wing governments in Latin America. He has a long history of involvement in issues of social and environmental justice.
This project has received funding from the Irish Research Council and from the European Union's Horizon 2020 research and innovation programme under the Marie Sklodowska-Curie grant agreement No. 713279.