Across the globe, modern slavery continues to disproportionately affect women and girls worldwide. Almost three quarters (71%) of people affected by slavery today are women and girls.
From sexual exploitation and domestic work, to descent-based slavery and forced labour, women continue to face physical, financial, sexual and psychological abuse. That's why, this International Women's Day, we're celebrating the courageous survivors of slavery and re-affirming our commitment to support every woman and girl to lead a life free from slavery and abuse.
One of the amazing people we've been working is Zalika* from Tanzania. A child domestic worker in Mwanza, Tanzania, Zalika is attending the Nyakato Vocational Training Centre and striving for a brighter future.
Like many girls worldwide, Zalika experienced hardship at home and this led her to seek employment as a child domestic worker. In fact, in Tanzania, around one million children are engaged in domestic work in Tanzania, most of them girls.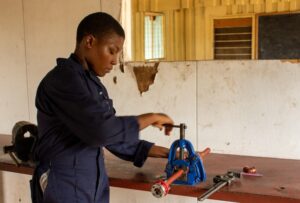 Poverty and hardship in rural areas force children to migrate to cities to find jobs in private households. Many girls also run away from home to avoid domestic abuse or forced marriage. Far from their families and vulnerable to exploitation, these children are often denied the salaries they are initially promised. They are often forced to work long hours and have little chance of attending school and getting an education. Many are subjected to physical and sexual abuse.
So, when Zalika was offered the opportunity of vocational training, she was delighted. Through the Tanzania Child Domestic Worker Coalition, Zalika has been able to learn a vocational skill and is using this opportunity to train as a plumber. Zalika is in fact the only female plumbing student at the training centre and is delighted to have this opportunity as this work is traditionally done by men.
Zalika hopes that by learning this important skill she will be able to provide a better life for her family. She wants to have more opportunities and have a career beyond domestic work.
Zalika aims to inspire other girls that they too can learn to be a plumber, and dreams of running her own plumbing company and to be able to hire women into this business. She would like other women and girls to be able to learn from her – and we can't think of any better way to help empower other women in her area and break gender biases in employment.
We're incredibly proud of Zalika and all the women our partners and our team work with who are breaking free from exploitation and building brighter futures for themselves and their peers.
With poverty and inequality continuing to disproportionately affect women and girls worldwide, alongside the impact of traditional socio-cultural norms and pressures such as forced marriage, gender-based discrimination continues to place women and girls are at risk of modern slavery and exploitation.
We're therefore here to fight for freedom from slavery for everyone, everywhere always and this includes the almost 30 million women and girls worldwide. We stand with you and will continue to fight for your freedom.
*Name changed