5 January 2015
Trafficking of East African women through the Sinai Desert.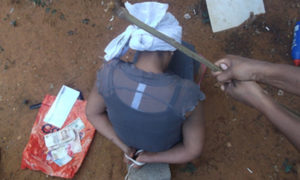 Voice of Freedom project exhibited photo stories of Eritrean and Ethiopian migrants who have been kidnapped and sold into slavery in the Sinai desert. We are honoured to host their work on our website.
Photo Voice presents the Voice of Freedom project: photography by African women who have escaped trafficking and torture in the Sinai desert, bringing voices of the formerly enslaved to a wide public for the very first time.
Voice of Freedom was granted unique access to the Ma'agan safe house for trafficked women in Israel, where we ran a series of photography workshops in which the women created images and text that explored the experience of having been trafficked.
The women – young, vulnerable and mostly rural Ethiopian and Eritrean women – had been tricked into slavery in their home countries, or kidnapped; then trafficked through Sudan and Egypt to Sinai, just south of Israel's border. Traffickers released them by the border, after extorting ransoms through rape and torture, and the women crossed under fire from Egyptian army. Taken first to prison in Israel, after legal process they were afforded 'trafficked' status and a place in the Ma'agan safe house.
These women, who had never before picked up a camera, came to create rich, expressive work, using art to convey the emotional impact of slavery. Their work speaks to an experience suffered by millions of unheard victims across the world, advocating for change with an authentic voice; one that deserves to be central to any discussion of modern-day slavery: that of the woman who was trafficked herself.
THE PHOTOGRAPHERS
On show here is the work of three women who took part in the Voice of Freedom workshops in October 2013, creating in-depth projects exploring their experiences:
Desta Getaneh is from the Gondar region of Ethiopia. She left home at the age of 10 to live alone in Addis Ababa and was trafficked from there to Sinai. Now in her early 20s, Desta is shortly to return to Ethiopia, where she plans to become an anti-trafficking activist in her own community, with the continued input and support of Voice of Freedom. She says: 'It's precisely because people who were trafficked before us were not willing to tell the story that we went through it. And that's what will continue to happen as long as the story is not being told.'
Zenebech Zeleke is from Addis Ababa. She grew up apart from her mother and father and was trafficked to Sinai via Sudan when in her early 20s. Zenebech, who would also like to work in anti-trafficking advocacy, says: 'I am very happy that my story is being seen and heard through the photographs all over the world and that it can maybe protect other women. It is my duty to educate people and tell the story. Our voices will be heard so when we tell our story people will believe that it's true.'
Tizalu Brahan is from the Gondar region of Ethiopia. She left home after her mother's death, hoping to find work in Sudan, and was kidnapped on the way there from Ethiopia, after wards trafficked to Sinai. She says: 'Through these pictures, they will see the miracle that has happened to me. After everything, I have pulled through.'
For more information and Press inquiries please email project director Leila Segal: leila@photovoice.org
F: /voiceoffreedom.uk    T: @VoiceFreedomPix    Web: ourvoiceoffreedom.wordpress.com Web:photovoice.org
Voice of Freedom is very grateful for the support of: Brit Insurance, Trust Greenbelt, Vovos Better World Fund, J Hub Micro Grants Programme, Rene Cassin, Hubbub, Loose Muse, Eritrean Refugees Support Association UK, Eritrean Women's Network, Amnesty International UK, and all our Indiegogo donors.