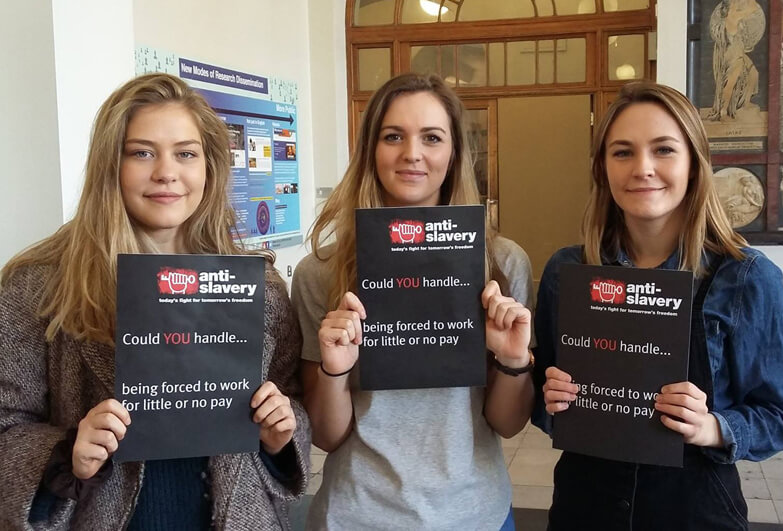 Students groups
It is through the energy of student campaigning, fundraising and organising that we can build the new generation of the anti-slavery movement.
That's why we work with student Anti-Slavery Groups and RAGs up and down the country to forward our campaigns, raise-awareness and fundraise for the anti-slavery movement.
This year alone…
Our student leaders co-ordinated a letter of solidarity from student's unions and groups from major UK universities representing over 57,000 students to the students of Uzbekistan.
Our Anti-Slavery groups worked with our Africa Programme to host the Mauritanian anti-slavery activist, Biram Dah Abeid, awarded the UN Human Rights Prize and Frontline Defenders Prize. They have organised bucket collections, panel discussions, and even locked themselves in pairs for a day to fundraise on our behalf!
Hear from Sukayna and Roberta from our SOAS Anti-Slavery Group on why they support Anti-Slavery:
Raising and giving (RAGs)
And it's not just our student groups, it is the commitment and creativity of RAGs in universities up and down the country that funds our work to support the victims of slavery.
This year we'll be working with RAGs at University of the Arts, Newcastle and Greenwich Universities. Last year, students at Cambridge and Bradford Universities RAGs raised over £11,000 in aid of Anti-Slavery.
What we offer to student groups and RAGs
We want to provide students with opportunities to lead in their communities. We will:
Provide you with all the resources, training and support to build a successful RAG partnership or student Anti-Slavery Group
Link you with our nationwide network of Anti-Slavery student and community chapters
Inform you of key dates to mobilise and organise in October and March as part of our 'Fundraise for Freedom' drive: Anti-Slavery Day (18th October), Black History Month (October), the day of Remembrance Day for the Victims of Slavery and the Transatlantic Slave Trade (25th March)
Provide our fundraising action pack and campaign updates, case studies from the field and our human-rights-themed quiz. Our regular campaign updates will assist you to deliver fast-paced, and exciting campaigns at your university
Invitations to our Annual General Meeting and Conference, and other networking opportunities
Supply branded Anti-Slavery International fundraising materials, banners, products of slavery maps, leaflets, tabards, collecting tins and buckets, and a JustGiving page
 Join an Anti-Slavery student or community group near you…
Glasgow Anti-Slavery Group
Nottingham University Anti-Slavery Society
UCL Anti-Slavery Group
Video produced by UCL students
University resources
Personalised Terms of Engagement for university groups- on request
Get in touch!
We are here to support you to raise funds and awareness. Please contact Rebecca on 020 7737 9434 or email r.chambers@antislavery.org.