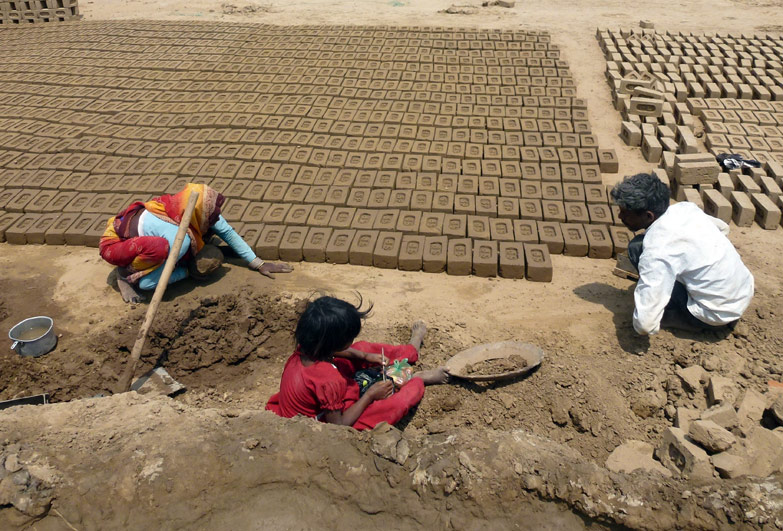 Slavery in India's Brick Kilns & the Payment System: way forward in the fight for fair wages, decent work and eradication of slavery.
September 2017
Report revealing shocking levels of debt bondage and child slavery in brick kilns across Punjab. The report found that the recruitment and payment systems underpin this cycle of slavery, trapping seasonal migrant workers in bonded labour year after year, leaving women unpaid and not treated as workers, and encouraging child labour. It identified changing the piece-rate payment system into a time-based one, where workers are paid individually and regularly, as a systemic change that would help break the cycle of bonded and child labour.
September 2016: UN's Universal Periodic Review submission on bonded labour, trafficking and domestic work in India, 2016. The submission by Anti-Slavery International, Jan Jagriti Jendra, The National Domestic Workers' Movement, and Volunteers for Social Justice.
July 2016: India: Submission on the Trafficking of Persons Bill 2016, with a focus on those trafficked for forced and bonded labour
State of Play 2015: Forced Labour in India's brick kilns
Slavery on the high street. Forced labour in the manufacture of garments for international brands.
New report from Anti-Slavery International exposes how top UK high street brands are selling clothing made by girls in slavery in southern India. Our research has uncovered the routine use of forced labour of girls and young women in the spinning mills and garment factories of five Indian clothing manufacturers that supply major western clothing retail brands.
Anti-Slavery International 2012.
Joint submission for the Universal Periodic Review of Nepal, 23rd Session, November 2015
March 2015
Anti-Slavery International, Informal Sector Service Center (INSEC) & Backward Society Education (BASE)
Poverty, Discrimination and Slavery: The reality of bonded labour in India, Nepal and Pakistan
This report is a study of the reasons why bonded labour, a contemporary form of slavery, persists in India, Nepal and Pakistan. In particular, it examines the effectiveness of state interventions against bonded labour.
This report reflects the main findings of research carried out by CEC, GEFONT and PILER between 2004 and 2006 into some of the obstacles to the eradication of bonded labour, the reasons why bonded labour persists, and into the interventions that have been made since anti-bonded legislation came into force in South Asia. It includes a number of recommendations which if fully implemented would lead to the eradication of bonded labour in South Asia.
Krishna Prasad Upadhyaya
Anti-Slavery International 2008
ISBN: 978-0-900918-70-4
The Enslavement of Dalit and Indigenous Communities in India, Nepal and Pakistan Through Debt Bondage
This paper, submitted to the UN Sub-Commission on Human Rights, describes the gross violation of the rights of millions of people in India, Pakistan and Nepal who are trapped in debt bondage and forced to work to repay loans. It explores evidence which shows that 80-98 per cent of bonded labourers are from communities designated as dalits.
Anti-Slavery International 2001